Cougar Town Could Return To ABC In March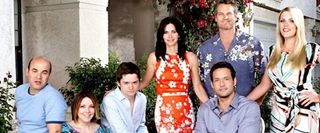 The long absence of Cougar Town from the ABC lineup may soon come to an end, with the show hopeful for a return in March according to network Entertainment Chief Paul Lee. The series faced a cut in the episode order from 22 to 15 when ABC put its eggs in another basket – but that basket, the series Work It isn't looking good and the cougars are on the prowl.
The Hollywood Reporter brought word from the TCA that Lee hopes to bring the show back. Meanwhile, showrunner Bill Lawrence, who wasn't part of ABC's panel and has a new deal with Warner Bros., hosted his own cocktail party for the press. He expressed his hopes for the show and as usual didn't pull any punches:
Lawrence's wife Christa Miller who stars in Cougar Town alongside Friends alum Courteney Cox was at the party along with him. Despite the separate TCA appearances, it seems Lawrence and Lee are on the same page when it comes to bringing the series back, both hoping to see it return in a few short months. While Lawrence suspects that the critical failure and dismal ratings of ABC's new series Work It will lead to Cougar Town returning to the lineup, Lee simply stated that the network plans to give the series "a really good launch pad" and fit it in among some of the newer entries coming midseason, including Don't Trust the B___ in Apartment 23.
Whatever the reason, it sounds like fans of the show have plenty of reason to get their hopes up for a spring return.
Your Daily Blend of Entertainment News
Your Daily Blend of Entertainment News
Thank you for signing up to CinemaBlend. You will receive a verification email shortly.
There was a problem. Please refresh the page and try again.