Could Daredevil Be The Most Stunt-Heavy TV Series Ever Made?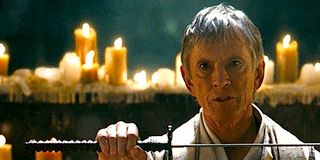 Marvel's Daredevil, which hits Netflix next month, will undoubtedly be dark and brooding, as evidenced by the recent images and trailers of the upcoming series. While we kind of know what to expect as far as the tone of the show, many of us probably weren't aware of the degree to which the series will incorporate stunt work. We don't have a ton of specifics but thanks to Scott Glenn, who plays Stick in the comic series adaptation, we do now know that Daredevil may just be the most stunt-heavy series ever made.
In a recent interview with IGN, Glenn discussed the many aspects of his role within the new, highly-anticipated series, from his learning how to play a blind character to his handling of the intense martial arts demands. Most interestingly, though, he touched briefly on Daredevil's stunt work, which at this point sounds pretty promising. Here's what the actor had to say:
Glenn didn't dive too deep into the details of the show's stunt work, nor did he provide us any illustrated examples, but with the claim that it is potentially "the most stunt-heavy" television series production ever, we can most certainly expect to see some mind-blowing sequences. Knowing Marvel's penchant for extreme secrecy surrounding their properties, it's no shocker he didn't want to risk revealing any key fight scenes or plot points but still, it would have been nice to get a few more hints as to what we may see in the series.
In re-watching the latest trailer, it's clear we should probably see some pretty cool fight scenes, however, until we see some actual clips it still remains a mystery as to what level we're talking about here.
The lack of details shown in the promos is apparently intentional, as Kingpin actor Vincent D'Onofrio recently pointed out, telling fans "there's so much they're not giving away" in the trailers. Netflix and Marvel are holding tight to the imagery so as not to spoil any of the show's surprises, of which many are being promised.
Daredevil was created by Drew Goddard and stars Charlie Cox as Matt Murdock/Daredevil, Skylar Gaertner (young Matt Murdock), Rosario Dawson (Claire Temple), Elden Henson (Foggy Nelson), Deborah Ann Woll (Karen Page), Vondie Curtis Hall (Ben Ulrich), Ayelet Zurer (Vanessa Marianna), Bob Gunton (Leland Owlsley), Toby Leonard Moore (Wesley) and the above-mentioned Scott Glenn and Vincent D'Onofrio (Stick and Wilson Fisk/Kingpin, respectively). There are also a handful of other characters (including The Gladiator) who've been announced, which you can view here.
All thirteen 'hour-long' episodes of Season 1 will hit Netflix on April 10, 2015.
Your Daily Blend of Entertainment News
Thank you for signing up to CinemaBlend. You will receive a verification email shortly.
There was a problem. Please refresh the page and try again.