Courteney Cox Hints At Which Friends Cast Member Always Holds Up Reunions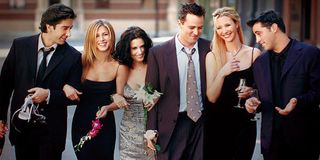 Sad news, Friends fans. It looks like a Friends reunion will never happen. Actress Courteney Cox recently hinted at why we will never see Monica, Chandler, Ross, Rachel, Joey and Phoebe reunite, and the reason may not be what you think it is. As it turns out, one of the cast members has been holding out on us.
In a recent interview with Yahoo!, Courteney Cox, who played Monica Gellar on the hit TV show Friends, was quick to shut down any possibilities about a potential Friends reunion. After quipping "let it go," the actress then qualified her response as to why a Friends reunion will likely never happen. In her own words:
Apparently, fans have come close to a reunion of the fan favorite, we just didn't know it. We also didn't know that it was only one member of the ensemble cast who may be primarily responsible for the lack of a Friends reunion, actor David Schwimmer, who played her brother Ross Gellar on the sitcom. Cox used quite the clever crafting of words in response to the frequently asked question, so as not to throw any unnecessary shade at her former co-star. Her eyes did all the talking for her. Take a look.
It was only when she was pressed for more details about who the "flake" was that the Cougar Town actress entertained the idea that it was Schwimmer. The interviewer asked her flat out if he was the co-star in question, and while she didn't officially confirm it, her words plus the look seemed to indicate he's the problem.
Even if Schwimmer is largely to blame for the lack of Friends reunion, it may be for a good reason. Perhaps the actor feels that his character, Ross, is best left without revisit, dinvr he already got the happy ending he wanted over 11 years ago. What more could his character ask for, right? Then there could be the justifiable, but still disappointing, conflicting work schedule excuse. The former Friends star has been quite busy since starring on the NBC sitcom, mostly recently having been cast as the lead in the ABC comedy pilot Irreversible and as Robert Kardashian in the first season of the FX miniseries American Crime Story.
Cox also went on to say that all six Friends stars have never been in the same place at the same time since the show concluded back in 2004, so obviously that can't all be Schwimmer's fault. Whatever his reasons are for not wanting the Friends reunion, however, it seems the actor is pretty adamant about it not happening and as a result, it's probably time that we all "let it go," as Courteney Cox said.
You can still catch syndicated episodes of Friends on TBS and it's now streaming on Netflix.
Your Daily Blend of Entertainment News
Your Daily Blend of Entertainment News
Thank you for signing up to CinemaBlend. You will receive a verification email shortly.
There was a problem. Please refresh the page and try again.