11 Famous Actors You Didn't Know Were On Friends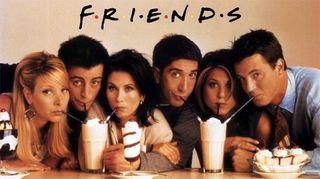 Friends fans may be gearing up for a massive 2015 binge-watch, as the beloved NBC comedy series is about to make its streaming debut on Netflix. Those die-hard Friends fans may already have a mental catalog of talented actors who've crossed the threshold of Central Perk, but if it's been a while since you've watched the show, you may be surprised to spot some familiar faces, who weren't so familiar back during the show's original run. It's with that in mind that we've compiled a list of actors to keep an eye your for as you make your way through ten seasons of Friends greatness.
Just to get this out of the way, this list excludes big guest stars eg. George Clooney, Brad Pitt, Julia Roberts, Christina Applegate, Reese Witherspoon, Noah Wyle, Morgan Fairchild, Teri Garr. etc -- as these are people you likely recognized when the show originally aired. We're also excluding those actors who appeared in more than two episodes, (but be sure to check out the last page for that little cheat sheet!)...
Spoiler alert: This list contains spoilers from the plot of Friends, so if you haven't seen the series yet, skip the text!
Mae Whitman
Long before she was playing Amber Holt in Parenthood and blanding it up as Ann Veal on Arrested Development, Mae Whitman dropped in for an episode of Friends ("The One Where Rachel Quits") to play the adorable Sarah Tuttle, a Brown Bird girl who breaks her leg, resulting in Ross having to help her sell cookies...
While Whitman was just getting her start as an actor during this time in her life, this was hardly her first role. By the time the Friends episode aired, she'd already played the president's daughter in Independence Day and little Michele in the Paul Reiser feature comedy Bye Bye Love.
Hugh Laurie
Remember the one where Rachel sat next to Hugh Laurie on a plane? Possibly not, as he wasn't nearly as well known in the U.S. when "The One with Ross's Wedding" aired in 1998, as he would go on to be thanks to House. See what "Man on Airplane" had to say to Rachel when she was explaining her plans to tell Ross she loves him as he's about to marry Emily...
The best part about the above clip is when he refers to Phoebe as "your friend 'Pheebs'."
Hugh Laurie has a lengthy list of credits in the 1980s and '90s, including Blackadder, so it's not as though he was a complete unknown when he sat next to Rachel on that airplane. Less than a decade later, Laurie would go to win two Golden Globes for his performance as Dr. Gregory House in Fox's House.
Kristin Davis
Kristin Davis dropped by Friends for "The One with Ross's Library Book" in 2000. In the episode, she plays Erin, a woman who dates Joey and hits it off with him pretty well. Of course, the relationship doesn't last...
Davis' inclusion on this list is borderline in terms of her fame. After all, Sex and the City was on the air for two seasons by 2000, and Davis also had Melrose Place and General Hospital under her belt by this time. With that said, Sex and the City was only still beginning to blow up at HBO, so it counts. Plus, Davis can boast appearances in both Friends and Seinfeld, which seems like a notable must-see-TV accomplishment (see also, Christine Taylor, Jennifer Coolidge, Jon Lovitz, Jason Alexander and a handful of other actors.).
Ron Glass
If you know Friends well enough then you know that Ross sometimes gets married. Just as often, he gets divorced. Following his third marriage -- his unplanned nuptials to Rachel in Las Vegas -- Ross went to see his attorney, who's played by Ron Glass. You may know him best for playing the wise preacher Shepherd Book in Firefly, but before that, he dropped in for two episodes of Friends, including "The One Where Ross Hugged Rachel"...
Ron Glass was hardly new to acting when he appeared in Friends. Prior to the 1999 appearances in the NBC sitcom, his credits included Barney Miller, Teen Angel, Mr. Rhodes and Rhythm & Blues, not to mention an appearance in 227, The Twilight Zone and -- Book would approve: -- Amen.
Steve Zahn
A year before Steve Zahn would go on to blow our minds as The Oneders guitarist Lenny Haise in That Thing You Do!, Steve Zahn appeared in Friends as Phoebe's figure-skating "husband." Watch him reveal the awkward truth about his sexuality in this clip...
Steve Zahn's acting career was on the rise when he appeared in Friends "The One with Pheobe's Husband." At this point, he had Reality Bites and Crimson Tide under his belt, and he was on his way to appearing in the mentioned Tom Hanks film, as well as You've Got Mail, Hamlet and the creepy Paul Walker horror-thriller Joy Ride. Much more recently, you may have seen him in Treme, Mind Games or playing the Dunphy's new neighbor in Modern Family.
Dan Bucatinsky
Maybe you know him as Cyrus' husband James Novak from Scandal, or Kevin 2 from Marry Me, but once upon a Friends episode, Dan Bucatinsky was just a "Waiter" in "The One with Phoebe's Birthday Dinner."
As recognizable as he may be for his on-screen roles, since Friends aired, Dan Bucatinsky has actually teamed up with Lisa Kudrow to produce a number of TV projects, including Web Therapy, Who Do You Think You Are? and most recently, The Comeback, in which he also plays the role; that of Billy Stanton, Kudrow's character's high-strung manager.
TJ Thyne
Blink and you'll miss T.J. Thyne's brief appearance in Friends. But you won't miss it because it's one of the funnier moments in Friends' milestone episode, "The One Hundredth," which has Phoebe going into labor with her brother's triplets. For about two seconds, Thyne plays Phoebe's doctor, Dr. Howser Oberman...
Playing a guy with a lot of education is something Thyne excels at. Just catch his appearances in Erin Brockovich or Angel for evidence of that. These days, Thyne is likely best recognizable as Dr. Jack Hodgins in Fox's Bones.
Dakota Fanning
Around the time that Friends was drawing to a close, Dakota Fanning appeared in the role of Mackenzie in "The One with Princess Consuela." Watch her in all of her adorableness she interacts with Joey...
Fanning was building up the credits at this point in her career, having already starred in the sci-fi TV miniseries Taken, as well as starring opposite Brittany Murphy in Uptown Girls. 2004 was also the year she starred in Man on Fire, so she was very clearly on her way up. In more recent years, she played Jane in some of the Twilight movies, Effie Gray, Every Secret Thing and The Last of Robin Hood.
Ellen Pompeo
Not long before Ellen Pompeo got her big break as Meredith Grey in Grey's Anatomy, she scored herself the part of Missy Goldberg in Friends. As you'll see in the clip, she plays a woman who knew Ross and Chandler in their college days...
At this point in Pompeo's career, she'd already appeared in Old School, Daredevil and Catch Me if You Can. In the year following her Friends appearance, Pompeo took on the part of Meredith Grey in Grey's Anatomy, which is where she's been for nearly a decade. The series remains a massive hit for ABC.
Penn Jillette
Penn Jillette may be the only person on this list that can credit himself a magician, juggler, comedian, musician, actor and author, who also happened to appear in Friends as... an encyclopedia salesman...
The great thing about Penn Jillette is that you never really know where he's going to show up. In the 90s, it might be Babylon 5 or Sabrina, The Teenage Witch. More recently it might be Celebrity Apprentice or Alpha House. In Friends, he had volumes of encyclopedias for sale and Joey just so happened to have a lot of time on his hands.
Jim Rash
When he appeared in "The Last One," Jim Rash wasn't the familiar face and Oscar winner that he is today. Back then, he was another plane passenger stuck sitting next to Rachel Green. Except, instead of hearing all about her plans to break up Ross's wedding, this flight had Rachel sharing Phoebe's fake warning about a busted phalange, which set Rash's character off into a full-on panic...
Anyone who knows Friends knows Phoebe loves the word phalange. And anyone who knows Community likely has no trouble recognizing Jim Rash now, as he plays the dean in the once-NBC series. Rash also nabbed himself an Oscar for penning The Descendants, so there's that too...
Remember how we said we were sticking to actors who only appeared in one or two episodes of Friends? Well, let's take a moment to celebrate some of the other very recognizable faces who appeared in longer arcs on the series.... Here are some familiar faces who appeared in bigger arcs in the series. Most are people who dated one of the lead characters on the show, though you'll also find Chandler's crazy roommate Eddie, and the the birth mother to Chandler and Monica's twins, Erica...
Jon Favreau (as Pete Becker)
Michael Rapaport (as Gary)
Hank Azaria (as David)
Paul Rudd (as Mike)
Aisha Tyler (as Charlie Wheeler)
Paget Brewster (as Kathy)
Adam Goldberg (as Eddie)
Christine Taylor (as Bonnie)
Anna Faris (as Erica)
Tate Donovan (as Joshua)
Your Daily Blend of Entertainment News
Assistant Managing Editor
Kelly joined CinemaBlend as a freelance TV news writer in 2006 and went on to serve as the site's TV Editor before moving over to other roles on the site. At present, she's an Assistant Managing Editor who spends much of her time brainstorming and editing feature content on the site.