Dallas Season 2 Episodes Available Streaming Ahead Of J.R.'s Funeral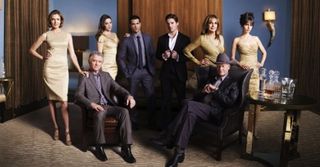 Television viewers are still mourning the death of Larry Hagman, and on Dallas they're about to mourn the passing of his character, J.R Ewing, perhaps one of the best-known TV characters in television history. Now TNT is giving viewers the chance to get caught up on the swan song of J.R.'s saga by streaming Season 2 on their website.
The second season of the new incarnation of Dallas is currently six episodes in, and TNT will make all of those episodes available to those who need to catch up in time to watch J.R. Ewing's funeral play out on the screen. The season's seventh episode will air on March 4th and will be made available for streaming the next day. TNT plans to keep all of the episodes available until March 12th, the day after the funeral episode airs, which gives you plenty of time if you need to start from the premiere to get caught up.
The funeral of J.R. is one of those TV events that has meaning even for those who haven't been drawn into the new version of the show. He's an iconic character who looms large in TV history thanks to the 1980 cliffhanger that had everyone asking "Who shot J.R.?". Sadly, J.R. won't be coming back this time, but TNT is giving everyone the chance to be a part of the season that brings his passing. TNT promises a "shocking revelation" in the episode, ensuring he goes out amid the same drama through which he lived.
All of Season 2's current episodes can be found on the TNT website, and they are also available through their mobile app. Dallas airs Mondays at 9 p.m. EST on TNT.
Your Daily Blend of Entertainment News
Thank you for signing up to CinemaBlend. You will receive a verification email shortly.
There was a problem. Please refresh the page and try again.