David Schwimmer To Reunite With Lisa Kudrow On Web Therapy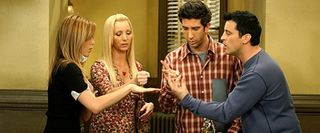 Guess which Friends alum is next to reunite with Lisa Kudrow on Web Therapy? She's already had Courteney Cox visit her on the Showtime series that moved over from a web series this past summer. Next up from the show that made Kudrow a star is none other than Ross himself, David Schwimmer.
EW had the news this morning that Schwimmer will visit the show for a four-episode arc in which he'll be seeking therapy from Fiona and might wind up with a little bit more than he bargained for in the process. Schwimmer will apparently play the son of a college professor who is Fiona's ex-lover. Why does he need therapy? Well it seems he actually witnessed the two in the act, and is now only attracted to women with a resemblance to Fiona. This guy needs therapy almost as bad as Ross did on Friends. Fiona, however, might not be the right choice for that professional assistance, which becomes clear when her solution to the problem is offered. I'll let you find out what that might be on your own.
The reunion of the Friends co-stars will take place this summer when Web Therapy returns for its second season. As for whether we can expect to see more of the Friends cast show up on Fiona's web cam, we'll have to wait and see. Kudrow has said in the past that she hopes they'll all pop by for a visit, so the invitation is out there for any takers. I'd put my money on Matthew Perry, who needs a boost after the cancellation of Mr. Sunshine last year.
Your Daily Blend of Entertainment News
Thank you for signing up to CinemaBlend. You will receive a verification email shortly.
There was a problem. Please refresh the page and try again.