Debby Ryan Will Headline Disney's New Pilot Jessie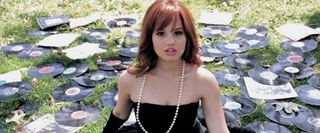 Apparently, all it takes is doing your hair up like Carla Gugino to land your own show on the Disney Channel. The tactic is certainly working for network worker bee Debby Ryan who, after years of playing fourth fiddle on Suite Life on Deck, has finally landed her own pilot. If Ryan has half as much success as fellow channel actresses Selena Gomez and Miley Cyrus, she should find herself in a cushy position.
First, she'll have to sell the new show to audiences. Accurately called Jessie after its lead character, the program is about a girl who moves from her small community in Texas to the big streets of New York. So, it's going to be a lot like MTV's My Life As Liz, only much tamer. Plus, Jessie will differ from My Life As Liz in that it will have an added plotline where Ryan works as a nanny. With four kids under Jessie's watch, Disney might have a whole line of new little dumplings ready for the spotlight by early 2015.
It certainly seems the brood will get the screen time they deserve. According to Deadline, Jessie was one of Disney's highest tested initial screenings ever. The show looks so promising Disney has now ordered 20 episodes of the program, up from the initial 13 originally planned. Now, if only Ryan could figure out how to sing. The road to stardom is paved with good intentions. Check Ryan out in the clip below.
Your Daily Blend of Entertainment News