Depp Sinks Teeth Into Classic Character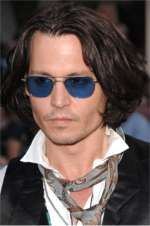 Vampires, ghosts, gothic estates…sounds like the perfect project for Johnny Depp. According to E! Online, the quirky actor is teaming with Warner Bros. on a big-screen version of the classic soap opera 'Dark Shadows,' with Depp playing vampire Barnabas Collins. The tidbit was revealed during Warners' presentation at Comic-Con in San Diego on Friday.
Depp, 44, was just a babe when the show debuted on ABC in 1966 with Jonathan Frid in the creepy role. Aside from a few stage roles and two other demon-based movies no one's ever heard of – The Devil's Daughter and Seizure – Barnabas was virtually the only character Frid ever played. As of 2003, Frid was retired and living in Canada, producing his own web site and making the occasional charity appearance.
If you happen to be in Tarrytown, New York, on Aug. 17-18, 2007, you can catch the Dark Shadows Festival, celebrating the 40th anniversary of Frid's first appearance on the show.
'Dark Shadows' ran for more than a thousand episodes back in the late 60s and early 70s. For those of you who weren't around back then -- and didn't rush home from school every day to watch it -- the show told the story of the Collins family, living on their estate in Maine. Vampires, witches, warlocks, werewolves, ghosts and zombies all showed up at the Collinwood mansion, catapulting the show to cult status and spawning numerous fan conventions and various attempts to resurrect it, including a 1990 TV series that lasted one season with Ben Cross in the neck-biting role.
As for Depp – whose long movie career has included dark characters in films like Sleepy Hollow, From Hell, and The Ninth Gate – he counts himself among the legions of 'Dark Shadows' fans and says he's dreamed of playing Barnabas ever since he was a kid. Somehow, that doesn't really come as a big shock.
Your Daily Blend of Entertainment News
Thank you for signing up to CinemaBlend. You will receive a verification email shortly.
There was a problem. Please refresh the page and try again.