Dermot Mulroney Joins HBO's Enlightened For Season 2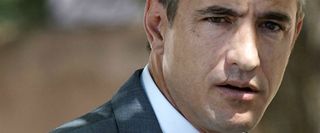 After a great first season, HBO's Enlightened found itself renewed for a second and, in turn, has started expanding the cast. Just yesterday, the series that already boasts a fine ensemble lead by the Golden Globe winning Laura Dern, added former SNL regular Molly Shannon in a recurring role as an assistant at Abaddon Industries and potential adversary (or ally) for Dern's Amy. And today, Mike White's series added another second season character with Dermot Mulroney signing on for a recurring role.
Deadline announced that Mulroney, who also had a recent stint on New Girl, will step into the Golden Globe nominated comedy as Jeff Flender, an investigative reporter and (spoiler alert) probable love interest for Laura Dern. Amy hires Flender, which is a great name, to help her bring down her former employers at Abbadon, but of course they end up in bed together instead. How it that effect the investigation? And how long will the romance last? Although it sounds a little obvious for the two of them to end up in a romantic relationship, I have complete confidence in White's writing and the fine actors' ability to make it interesting.
The single-camera dramedy was certainly one of the standouts of last year, easily competing with Homeland and Game of Thrones for the most impressive debut. It doesn't hurt that Enlightened has enlisted only the best to help bringing White's scripts to the small screen, whether it's hiring talented actors like Mulroney (who I love in Fincher's Zodiac) or putting the show in the hands of directors like Academy Award winner Jonathan Demme. No date has been announced for the second season return but Enlightened aired on Mondays at 9:30 p.m. ET on HBO. It stars Laura Dern, Diane Ladd, Sarah Burns, Luke Wilson, Timm Sharp and Mike White. It was created by Mike White and Laura Dern.
Your Daily Blend of Entertainment News