Desperate Housewives' Nicollette Sheridan Vs. ABC And Marc Cherry Trial Underway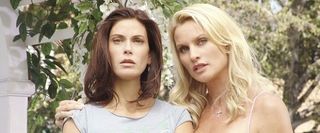 The drama on Wisteria Lane is coming to close this season, but the drama that went on behind the scenes on the show is just about to take the spotlight. Nicolette Sheridan, who left the show under shady circumstances back in 2009, has sued for wrongful termination and battery, and showed up in court today for the beginning of her court case against ABC and Desperate Housewives creator Marc Cherry.
Sheridan's case is based on her belief that she got the boot from the hit show after she reported Cherry for hitting her in 2008 – something Cherry doesn't deny, although he refers to it as a light strike on the head. Cherry does deny that it had anything to do with the killing off of Sheridan's character Edie Britt. Sheridan doesn't buy it – and now we'll have to see if a jury buys it.
Sheridan and Cherry both showed up in the LA Superior Court today, Deadline reports, and the case went to the jury selection process. If only we could get a spot on that jury – due to testify are major ABC execs and many of the stars of the show who were around when the whole thing went down. Eva Longoria, Felicity Huffman and Marcia Cross are all on the witness list. Both Sheridan and Cherry will take the stand and are each expected to spend a good eight hours fielding questions.
Sheridan has already lost a case in which she claimed she was sexually harassed the entire time she worked on the show. This time she is after a payday of $4.2 million for a year's salary. Is the drama behind the scenes at Housewives for real or will a jury put Sheridan's claims to rest? Either way, it's one way to get the spotlight back on the show as it heads for the series finale.
Your Daily Blend of Entertainment News
Thank you for signing up to CinemaBlend. You will receive a verification email shortly.
There was a problem. Please refresh the page and try again.