Doctor Who: The End Of Time Airdate And Video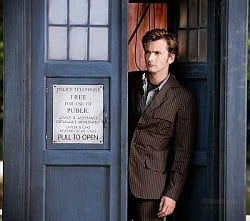 After announcing a date of December 19 for Doctor Who: The Waters of Mars, which has already aired in the UK, BBC American announced that fans stateside will only have to wait one day for the next-to-last chapter of David Tennant's run as the good Doctor. Doctor Who: The End of Time: Part 1 debuts on Christmas Day in the UK, and on December 26 on BBC America, according to Zap2It.
The special features the return of fan-favorite aliens the Ood, as well as a "final" confrontation between the Doctor and the Master, portrayed again by John Simm (Life on Mars-UK). There's been no announcement on when Part 2 might air, but it is expected during the holiday season.
Of course, as we all know, after these three remaining specials, Tennant will hang up his long coat and pass the sonic screwdriver on to Matt Smith as new, and eleventh Doctor. He'll be joined by Karen Gillan as his new companion when the new full season of Doctor Who kicks off sometime in 2010.
But before we can say hello, we have to say goodbye. BBC America has provided a sneak peek of "The End of Time."
Doctor Who: The End of Time - Part 1 airs Saturday, December 26, 2009 on BBC America.
Your Daily Blend of Entertainment News
Your Daily Blend of Entertainment News
Thank you for signing up to CinemaBlend. You will receive a verification email shortly.
There was a problem. Please refresh the page and try again.