Doctor Who Has Its New Companion, But There's A Catch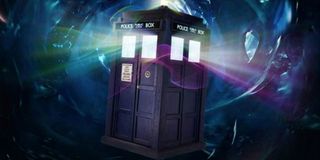 Many Doctor Who fans have been mourning the loss of Jenna Coleman's Clara Oswald as The Doctor's companion since she ended her time on the show last season. But, just as many fans have been speculating on who could replace the fan-favorite in the very important role. Now, we know that the part has finally been cast, but there's one catch: they're not telling us who has the role yet.
Peter Capaldi broke the news when he spoke with Brazilian website Omelete about the casting, and how this companion will be different from Clara.
So, Doctor Who has found the person who will fill Clara Oswald's shoes as companion on the series, but what do we know about the new companion? Well, the Omelete article notes that Peter Capaldi revealed that he's worked with this new addition to the cast before. Obviously, that narrows things down a bit, but not as much as many would like. He didn't say that this was someone who had actually appeared on Doctor Who before, but that is a possibility; the timey-wimey, new-supporting-cast-every-week nature of the show allows for actors to be cast in one role on the show and then pop up a season (or several seasons) later as a completely new character. Capaldi himself appeared on the show in 2008 as Caecilius in the episode "The Fires of Pompeii," before making his first official appearance as The Doctor in 2013.
Since this new actor may have actually been a part of the Doctor Who world before, many people are probably hoping that a guest star from last season will be making a more permanent appearance on the show. Even though Game of Thrones actress Maisie Williams has denied that she would show up again, a lot of fans would surely be glad to have her back, either as her immortal Season 9 character Ashildr, or someone new.
The most recent rumors regarding the casting of a new Doctor Who companion have revolved around British-Asian actress Rakhee Thakrar as being in the running for the part. She's already made quite a name for herself across the pond as a regular on the British soap opera EastEnders, and Peter Capaldi has noted before that the series was interested in a multi-cultural casting for the new companion. A quick look at the IMDB pages of Capaldi and Thakrar, however, don't reveal that they've worked on any filmed projects together, but, as many actors do stage work along with filmed projects, this doesn't mean that they haven't done a play together at some point.
Well, Peter Capaldi has certainly given us something to think about. Now that the new companion has been cast, it makes sense that they'd want to keep it a secret for a while. The next season of Doctor Who won't premiere until 2017, and this year's Christmas special is still quite a way off. At least this means that all the Whovians will get a chance to try and solve the puzzle of the new casting themselves. And that's exactly the kind of thing The Doctor would love to see us do.
Bachelor Nation, Gilmore Girl; will Vulcan nerve pinch pretty much anyone if prompted with cheese...Yes, even Jamie Fraser.
Your Daily Blend of Entertainment News
Thank you for signing up to CinemaBlend. You will receive a verification email shortly.
There was a problem. Please refresh the page and try again.