The Doors Cover Reading Rainbow On Late Night With Jimmy Fallon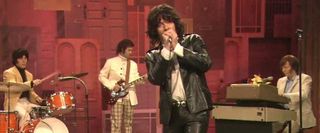 In the world of late night television, there is one host who stands apart from the others. Where most of them got their start as stand-up comedians or writers, Jimmy Fallon cut his teeth at the sketch comedy giant Saturday Night Live. This may not seem like an important distinction but it's definitely one that Fallon should be taking advantage of because he can do things, like absolutely perfect impersonations of Jim Morrison, that the other hosts cannot.
Sure, Conan and Jon Stewart are always up for impersonations but theirs find their charm in the lack of similarity with the actual figure being impersonated. Jimmy Fallon on the other hand, has a whole slew of celebrity impressions that he could pull out at a moments notice. His Barry Gibb is one of the funniest things ever committed to television but Friday night on Late Night with Jimmy Fallon his impression of The Doors' Jim Morrison transcended the comical and became something, well, just really rad. Not only was his performance the spitting image of the legendary lead singer but it was also a cover of the theme to Reading Rainbow.
Yes, you probably never thought you'd hear a Doors cover of the Reading Rainbow theme but thanks to Jimmy Fallon, we don't only get to hear it but we get to see it. Of course, the famous children's television theme song is only about seven lines long so there is a little bit of lyric improvisation going on. See if you can name all the famous children's books from which they got the lyrics - 'Goodnight Moon,' a few Dr. Seuss and 'The Hungry Catepillar' for sure. Any others? Anyway, enjoy the amazing performance and be sure to tune into the aforementioned SNL on December 17th to watch Fallon as he returns to his former stomping grounds to host.
(Video via NBC).
Late Night with Jimmy Fallon airs weeknights at 12:35 a.m. on NBC. Fallon hosts Saturday Night Live on December 17th at 11:30 p.m. ET also on NBC.
Your Daily Blend of Entertainment News
Thank you for signing up to CinemaBlend. You will receive a verification email shortly.
There was a problem. Please refresh the page and try again.