Downton Abbey Renewed For Fourth Season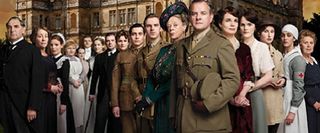 Thanksgiving may be over, but Downton Abbey fans have one more thing to be thankful for. ITV has given the hit drama the official go-ahead for a fourth season. While viewers in the U.S. still have a little over a month to wait for the third season to air here, it wrapped to strong ratings overseas, and the renewal for another season doesn't come as much of a surprise.
The show fared well in the ratings against its popular Sunday night competition, The X Factor. The third season averaged 9.7 million viewers, including same-day delayed viewing, which shows a steady climb from the first two seasons' averages of 8.4 and 9.5 million for one and two respectively. Those numbers made it highly likely Downton would be back, and The Hollywood Reporter today had the official announcement. Since Season 3 aired its finale earlier this month we've been waiting for news on the show's fate, although I can't say I was particularly worried.
Of course now we can begin the speculation about who will return for the fourth season, most notably Maggie Smith, who last I heard still had no contract to return for another season – although there has been no sign she plans to leave either.
ITV will once again air a two-hour Downton Abbey Christmas special on Christmas Day this year, but on our side of the pond we will still have to wait until the January 6th premiere of the show's third season on PBS. That makes the just-announced fourth season seem a long way off for American fans.
Your Daily Blend of Entertainment News
Thank you for signing up to CinemaBlend. You will receive a verification email shortly.
There was a problem. Please refresh the page and try again.