Downton Abbey Creator Talks Maggie Smith's Possible Departure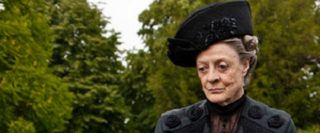 Since it was first reported that Maggie Smith could be leaving Downton Abbey, fans of the show have been waiting for confirmation – or denial – of the rumour. With contracts in place for other major members of the cast, Smith's contract is still up in the air. Downton creator Julian Fellows says that as it stands now, it's up to Smith to decide.
Fellowes told TVLine that "It's entirely up to her when she stays and when she goes." So the good news is that Maggie Smith has not handed in her resignation from the show. The bad news is that no, she still doesn't have a contract in place. Fellowes doesn't seem particularly concerned or surprised that she hasn't signed on for the next season yet. He says:
I'm sure I speak for most fans of the show when I say that I have to agree with that last statement; Smith's witticisms are an integral part of the show, and her character part of what keeps things fresh, funny, and moving forward.
In the meantime, Fellowes also talked about the rumors that Dan Stevens would be leaving the show, a question to which the answer is absolutely not. Although he is doing a stint on Broadway, he is definitely returning to play Matthew for next season. So on that point at least, Downton fans can rest easy.
With most of the cast secured for Season 4 and 5, should the show be renewed, it seems likely that Smith will come along for the ride. I can't imagine why she would go; she appears to be having a blast playing the Dowager Countess. In the meantime, we in the States can only wait for both Season 3, which is set to air here early next year, and for word on Season 4.
Your Daily Blend of Entertainment News
Thank you for signing up to CinemaBlend. You will receive a verification email shortly.
There was a problem. Please refresh the page and try again.