Drew Carey Ready For The Price Is Right Premiere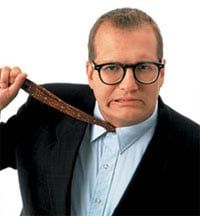 It was just a few short weeks ago that we were awaiting word on whether it would be George Hamilton, Ian Ziering, Mario Lopez, or (shudder!) Rosie O'Donnell leading us in Plinko upon Bob Barker's retirement. Then comedian Drew Carey shocked the world when he announced on Letterman that he had won the coveted hosting gig. Then he shocked us again on Aug. 10 when he injured his arm rehearsing the Grocery Game. Thankfully, CBS is ready to assure us that the drama is over and Carey will be ready to come on down on Oct. 15.
In a statement obtained by TVGuide.com, a CBS spokesperson announced, "The new season will start out with some exciting wins, as several contestants make some lucky spins on the big Wheel. Others have the chance to win some of the most expensive cars ever given away on the show, as well as trips to exotic locations and more amazing prizes. In addition, the familiar set has been refreshed to give it an updated look while keeping the recognizable Price is Right theme and appearance."
Note to college professors: Please be merciful and don't schedule any pop quizzes for noon-time classes that day. You just know everyone's gonna skip.
Update: Correction made regarding Carey's announcement, which was made on The Late Show With David Letterman.
Your Daily Blend of Entertainment News
Thank you for signing up to CinemaBlend. You will receive a verification email shortly.
There was a problem. Please refresh the page and try again.