A&E's Breakout Kings Season 1 Available On DVD In March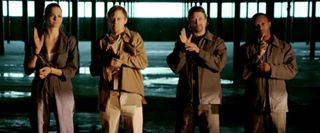 A&E's Breakout Kings, starring Laz Alonso as U.S. Marshall Charlie Duchamp and a group of fugitives that include the likes of Jimmi Simpson and Serinda Swan, has already been picked up for its second season. The show, which follows a group of former fugitives as they track down new fugitives in a special task force, will air its second season sometime this year. If you haven't caught Breakout Kings, but find the premise of criminals catching criminals interesting, you will have plenty of time to catch up.
Twentieth Century Fox Home Entertainment will release the first season of Breakout Kings onto DVD on March 13. Extras on the disc will be pretty extensive for a DVD-only release. Deleted and extended scenes will be included, as well as several featurettes. A final extra will deal with Fox's Prison Break crossover character. Called "T-Bag Dealt A Bad Hand," that extra will look inside T-Bag's escape from Fox River Prison.
While Breakout Kings did get off to a critically soft start, by the end of the season the show found a better balance between action and characterization. Season 1's finale earned, according to TV By The Numbers, a little over 2 million viewers, which is decent for A&E. The show actually moved from Sunday night to Monday for the finale, which may have helped its ratings boost. TV Blend will keep you posted when Breakout Kings gets an official Season 2 release date.
Your Daily Blend of Entertainment News
Thank you for signing up to CinemaBlend. You will receive a verification email shortly.
There was a problem. Please refresh the page and try again.