Ed O'Neill Cements Star Status Near A Shoe Store On Hollywood Walk Of Fame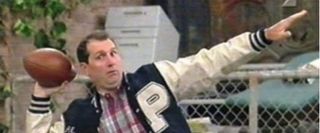 It wasn't too long ago that I was bitching about the cast of Modern Family's appearance on James Lipton's Inside the Actors Studio. I ended up taking about how the guests on Bravo's IAS lately don't exactly live up to the original, career actors who the show was designed to interview. We want legends, not rising stars. Well, with Ed O'Neill present there was at least one legend in attendance and just yesterday that status was cemented, literally, with a star on the Hollywood Walk of Fame.
Zap2It covered the event and snapped some pretty great photos of the man we've come to know as both Al Bundy and now, Jay Pritchett. In fact, both of his on-screen wives were in attendance for the special event. Yep, Peggy Bundy (aka Katey Sagal) from Married with Children and Gloria Delgado-Pritchett from Modern Family (aka Sofia Vergara). Hm. I wonder who would win in a throw down? Gloria is nothing if not, uh, spicy, but Sagal's Peg might just nag her to death.
About the honor, O'Neill said,
I wonder if the placement of the star had any bearing on why he eventually accepted? I mean, if you're going to put Al Bundy's star anywhere, it better be outside the one place he hated the most, his place of embittered employment... a shoe store. Yes, they were actually smart and clever enough to have O'Neill's permanent place on the Hollywood Walk of Fame reside just beyond the stoop of a shoe store. Let's hope it specializes in ladies footwear. That'd be perfect.
His new ABC comedy has become quite the hit after only two seasons, largely in part to the fantastic performances they get out of their actors like O'Neill. I wouldn't put it up there with Married With Children just yet, but Modern Family is well on its way to becoming one of the best sitcoms of the '00s (watch out Parks and Recreation). Congratulations Al, I hope it takes you back to your glory days playing Polk High football.
Modern Family's third season will premiere on ABC on Wednesday, September 21st.
Your Daily Blend of Entertainment News