Inside The Actors Studio Preview: The Modern Family Cast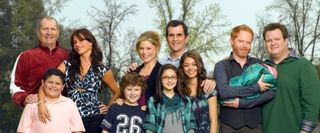 This used to be my weekday afternoon routine. I'd get home from class (or on days off wake up sometime in the late afternoon) and turn on Bravo to catch reruns of Inside the Actor's Studio with James Lipton. Housewives have their soaps and I had IAS. Call me corny but I always loved watching icons like Clint Eastwood, Gene Wilder and Robert De Niro talk about not just their craft but how they became icons. It's inspirational (see, corny but whatever). Then they ran into a problem... there are only so many legends so what do you do when you run out?
This is why I rarely watch Inside the Actor's Studio now. Although I still find it interesting, it's a little different to watch Lipton praise the illustrious and long career of someone like Paul Newman than it is to watch him talk with Daniel Radcliffe (no offense to Harry Potter but he's barely had a career yet, I want to see legends, not legends in the making). This week is an interesting case though with the entire cast of Modern Family appearing on the show. A few of their careers are just blossoming but I'm definitely interested in what Ed O'Neill has to say (plus it's one of the better ensemble casts on one of the best shows on TV so... ).
Here are two clips from the upcoming show. The first features Eric Stonestreet and Jesse Tyler Ferguson talking about going 'gay for pay' and the second has Julie Bowen sharing an anecdote from her time in Florence. No Ed O'Neill. I guess I'll have to tune in for that part.
The Modern Family episode of Inside the Actor's Studio airs Tuesday, June 7 at 8 p.m. ET on Bravo.
Your Daily Blend of Entertainment News