Elementary Comic-Con 2012 Panel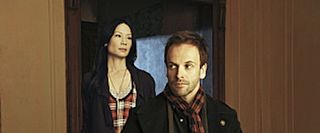 Joining CBS' Thursday night line-up this fall is Elementary, a(nother) drama series that takes Sir Arthur Conan Doyle's classic detective character Sherlock Holmes and puts him in the modern-day world. New York City, in the case of Elementary. Today at Comic Con in San Diego, those of us situated in Ballroom 20 will have the opportunity to screen the pilot, after which there will be a panel discussion featuring series stars Jonny Lee Miller (playing Holmes) and Lucy Liu (playing Dr. Watson), as well as executive producers Robert Doherty and Carl Beverly. EW's Dalton Ross is moderating.
4:45 p.m. - Moderator Dalton Ross introduces the pilot to us. Will be back soon with some thoughts on that and the Q&A portion of the panel! Sit tight and hit refresh!
Thoughts on the pilot: "I don't guess, I observe," Sherlock Holmes says. "And once I've observed, I deduce." Holmes' method of figuring things out may sound simple, but the set-up for CBS' new series Elementary is a bit more complex. Quick thoughts on the pilot. Putting aside my appreciation for the U.K. series Sherlock, Elementary actually has a lot o things going for it. The pilot episode has Sherlock solving a murder mystery with the assistance of his new "sober companion," former surgeon Joan Watson.
Between demonstrations of Holmes' genius and Watson's proven ability to adapt and assist in the investigation, we soon learn that these two people have personal issues that aren't quite resolved. Both Liu and Miller are great in their roles, with Miller nailing the humorous moments as well as he does the serious ones. He's got this part down, including the quick delivery of Sherlock's deductions. The dynamic between Holmes and Watson works well for a working relationship. I didn't pick up on any sexual tension between the duo. That may be something that's explored later, but for now it'll be interesting to see how their relationship develops on a platonic and professional level.
5:30 p.m. - The cast and producers step out onto the stage. Ross begins by pointing out that Miller co-starred with Benedict Cumberbatch in Frankenstein. Miller says Cumberbatch has been "very supportive." They talked about what a wonderful character Sherlock is. Miller did research from the books. Liu says there's a difference in the dynamic between a man and a woman and a man and a man. (talking about female Watson). Robert Doherty says he was always a fan of the original books. He did psychological assessments of the characters. He discovered that Holmes struggled with women. "What would be more trying for Sherlock Holmes than living with Watson, who's also a woman," he said. He says its a challenge in the series to not turn it into a will-they-or-won't-they. Talking about the incredible friendship between the two characters. Talking about honoring the bond between the two characters. People cheered for that.
5:37 p.m. - Writers won't give up specifics on some of the classic villain who might appear. Moriarty's name was mentioned but again, no confirmation on whether we'll see him. They want to spend time on the relationship between Watson and Holmes. They're looking to craft new stories. Talking about having Holmes in a new city surrounded by new people. It sounds like they're looking to take the story in its own direction.
5:40 p.m. - Liu says Watson is flawed and she's using her job as a sober companion to distract herself from dealing with her own issues. But Holmes sees right through her.
5:42 p.m. - Fan questions time. First fan asks about criticism over Watson being a woman and Asian American. Liu says pioneers do things out of the box and do things to please yourself. Executive producer Carl Beverly speaks highly of Liu.
5:45 p.m. - Last question is about Jonny taking on such a popular character. Lee says the script was wonderful and talks about going back to the source material (the books). He talks about the drug use in the books. It sounds like that's something that will come into the series. Lucy Liu says she thinks pressure is a good thing.
There wasn't much time leftover for questions, so that's about it for it. Next up in Ballroom 20 is Dexter! Stay tuned for our live blog for that.
Your Daily Blend of Entertainment News
Assistant Managing Editor
Kelly joined CinemaBlend as a freelance TV news writer in 2006 and went on to serve as the site's TV Editor before moving over to other roles on the site. At present, she's an Assistant Managing Editor who spends much of her time brainstorming and editing feature content on the site.