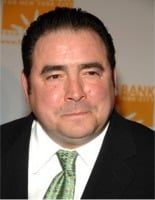 Emeril Lagasse is going green – and I don't mean in a spinach and broccoli sort of way, although I'm sure he'll work those into the mix somewhere.
The fan fave of Food Network's Emeril Live has been tapped to host his own series on Planet Green, Discovery's new eco-lifestyle network, launching in June.
Tentatively titled Emeril Green, the daily series will debut in July and will feature Lagasse's tips for cooking healthy family meals. It's a partnership with Whole Foods Market, with the popular natural grocery chain supplying fresh and tasty ingredients.
Last week, it was announced that Martha Stewart Living Omnimedia was acquiring Lagasse's content assets to the tune of $50 million.
Lagasse will continue his affiliation with the Food Network. Emeril Live wrapped production last year, but Essence of Emeril continues. He'll likely do specials and other programs for the network, as well, reports The Hollywood Reporter.
Your Daily Blend of Entertainment News
Thank you for signing up to CinemaBlend. You will receive a verification email shortly.
There was a problem. Please refresh the page and try again.