Emmy Rossum Is Shameless For Showtime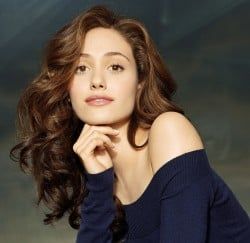 It's always hit-or-miss when American studios commission remakes of British television hits. Showtime's Shameless, however, is doing all the right things so far. First off, they're putting it on Showtime. UK TV takes more risks and is more risque than you can get away with on the FCC airwaves, so premium cable can help keep the right tone. Now, they've added Emmy Rossum to a cast that already features William H. Macy and Allison Janney, according to Reuters.
She first gained wide recognition for her role in The Day After Tomorrow. While that involved a lot of running and screaming, there was still something about her that was captivating. We learned just how much with her star turn in 2004's The Phantom of the Opera. She still hasn't blown up huge on the big screen, which may be why we'll be treated to her beauty and talents in Shameless. I wonder if they'll work any singing in for her character; Rossum has a beautiful voice.
She'll play the eldest daughter of Macy's drunken father character. That means she'll be the one charged with keeping her five younger siblings on the path to some sort of a real life. It's a pivotal role in the series, and one that needed a capable actress to give it authenticity, innocence and hope. Rossum is an inspired role and gives me hope that Showtime's Shameless won't just be another shameless attempt to cash in on a popular British show.
Your Daily Blend of Entertainment News
Thank you for signing up to CinemaBlend. You will receive a verification email shortly.
There was a problem. Please refresh the page and try again.