Exclusive Halt And Catch Fire Preview Teases Computers, The 80s And Big Risks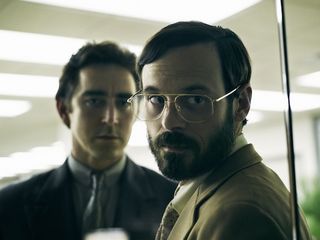 "Computers aren't the thing," the new TV spot for AMC's Halt and Catch Fire notes. "They're the thing that gets us to the thing." That statement actually makes a lot of sense when we consider not only how much computers have evolved since the 80s, but also how many crucial uses they have from one industry and household to the next. That big-picture mentality may prove to be crucial to the characters of Halt and Catch Fire, who are aiming to build a game-changing computer.
In addition to the new preview, we also have this conference room still from the series, which shows us star Lee Pace as Joe MacMillan and Scoot McNairy as Gordon Clark:
Halt and Catch Fire is a new 10-episode AMC fictional period drama from Jonathan Lisco, which takes place in the 80s and focuses on a renegade trio that takes a major chance by building a game-changing computer.
Lee Pace's character, Joe MacMillan, is described as a hard-driving (heh) former IBM sales executive "who oozes charisma and has all the surface-level attributes of an American winner." The moment he pushes his way up to the top of Cardiff Electric, he moves to reverse-engineer IBM's flagship product to make something even better. But he may have another agenda.
Meanwhile, Scoot McNairy's character Gordon Clark is described as "a once-promising engineer" who's sleepwalking through life until Joe shows up with his big plan. Haunted by the humiliation of public failure over a computer he and his wife once tried to build and market, Gordon may have a second chance at success, if he can juggle all of the challenges he's facing, including technical issues with the new machine, a difficult working relationship with recalcitrant programmer Cameron Howe (Mackenzie Davis) and this family obligations.
This 3-minute featurette breaks down the plot of Halt and Catch Fire a bit more...
"Speed, greed and shady deals!" and "A sex-charged spy thriller." If that sounds like your thing, Halt and Catch Fire arrives on AMC on June 1. at 10:00 p.m. ET.
Your Daily Blend of Entertainment News
Thank you for signing up to CinemaBlend. You will receive a verification email shortly.
There was a problem. Please refresh the page and try again.