Explore Batman The Animated Series In Virtual Reality With This Amazing Exhibit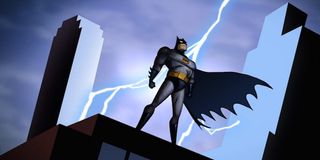 Fans of the 1990s animated classic Batman: The Animated Series which aired on Fox, get ready to have your minds blown. You may have thought the animated action series was trapped in its three year window from 1992-1995, but thanks to some apparent geniuses you would be horribly mistaken. Due to some amazing new technology, enthusiasts of the highly-touted Gotham City-based animation will now get to experience it in a virtual reality setting with this crazy-cool new exhibit.
Technological advancements are happening faster everyday, bringing about things that in years past we could only dream about. Through the combined powers of Blue Ribbon Content (Warner Bros' short-form digital series production unit), DC Entertainment and cloud graphics pioneer OTOY Inc. we now have the first-of-its-kind immersive VR experience delivered in the world of Batman: The Animated Series.
Using OTOY's state-of-the-art holographic light field rendering technology (I'm surprised you don't know what that is... kidding) the mind-blowing experience takes viewers into a 100% fully navigable Batcave. The brilliant minds behind this insanely-cool technology have faithfully recreated the look and feel of the animated series (check out images here) to an almost unbelievable degree. Covering a million cubic meters of space of explorable Batcave, the VR experience is the first use of light fields to render large, navigable spaces. Blue Ribbon President Sam Register had this to say about their accomplishment:
3-D technology may currently be at the forefront of the movie industry at the moment, thanks to leading advocates like James Cameron and films like Avatar, but if this amazing new Virtual Reality (VR) exhibit is any indication of what's to come, the old glasses-dependent tech may soon be just another thing of the past. Let's admit it, while we all hit a 3-D film every now and then, the technology hasn't really taken off like we once thought it would. Could this new VR technology, combining the best from animation, movies and video games, be what viewers have been craving? It looks like we'll soon find out. For a more understandable view on OTOY's holographic light field rendering technology, check out the video below.
Fans of Bruce Timm's Batman: The Animated Series will be excited to hear that the soon-to-be released VR experience, which used devices like the Samsung GALAXY Gear VR and the very cool Oculus Rift, will see Kevin Conroy (of the original animated series) returning to his role as Bruce Wayne/Batman. The potentially game-changing experience, which also has original series writer Paul Dini onboard, is set to release this winter. If all goes well, we can only hope to see similar renditions of other classic animations like The Tick, Justice League Unlimited, X-Men: The Animated Series and Spider-Man come to light.
Your Daily Blend of Entertainment News
Thank you for signing up to CinemaBlend. You will receive a verification email shortly.
There was a problem. Please refresh the page and try again.