James Cameron Hilariously Insults Virtual Reality And Oculus Rift Technology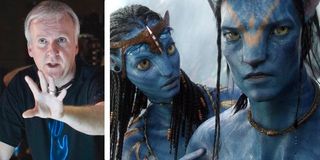 James Cameron has developed a reputation as one of the most fiery and tempestuous filmmakers in the business. And while he hasn't really vented his furious anger on the Oculus Rift, he has instead made a rather biting declaration regarding the upcoming development in virtual reality technology.
According to the The Hollywood Reporter, James Cameron clearly isn't impressed with the virtual reality start-up company, which has so far been met with universal praise and hype. The excitement surrounding the Oculus Rift even saw Mark Zuckerberg -- who some of you might know owns Facebook but is probably mostly known for inspiring Jesse Eisenberg's "fuck-you flip-flops" in The Social Network -- buy the company's brand for $2 billion back in March. But this anticipation hasn't made its way to James Cameron, who is simply bored with what he has heard about the Oculus Rift. He tells THR:
Maybe James Cameron is right. However it still seems like a rather cynical viewpoint of the Oculus Rift. Surely this technological advancement will go on to spur the further progressions that Cameron is talking about? And what does he think the people who are behind the Oculus Rift should have done with their invention? Should they have simply tanked their idea because it wasn't as far as advanced as they'd hoped? Of course not; especially since it has been met with a mostly positive response from other innovative individuals who have seen it.
James Cameron is a notoriously hard man to please though. Plus the fact that he has spent the last half a decade surrounded with a variety of highly technological devices as he develops Avatar 2, Avatar 3 and Avatar 4 probably means that he has seen what is possible in the virtual reality realm. Maybe he's just disappointed that we're not yet in the position where these items are available for public consumption. Hopefully the success of the Oculus Rift, when it is released, will lead to other, more advanced products becoming available. Until then, though, James Cameron clearly won't be happy.
Cameron is still staving away on the three sequels to his 2009 blockbuster behemoth, Avatar. Avatar 2 is expected to be released in December 2016, while Avatar's 3 and 4 will then follow in the same month but in 2017 and 2018 respectively. If they come anywhere close to grossing the $2.7 billion that the original did, maybe even Cameron will be able to raise a smile.
Your Daily Blend of Entertainment News