FX Acquires Premiere Rights For Transformers: Dark Of The Moon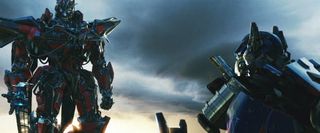 FX is becoming one of the better cable networks laregly thanks to their great original programming. They've come a long way over the years, developing cult shows that go mainstream like It's Always Sunny in Philadelphia or Sons of Anarchy, the latter also picking up some awards along the way. However, the network isn't stopping there, they're also vying to have the television rights to every movie released this year.
Yep. FX has set its sights on pretty much every major blockbuster over the last year and a half, which includes acquiring the rights to such tent-poles as The Hangover II, Super 8, X-Men: First Class, Thor, Green Lantern, Bad Teacher, Tron: Legacy, and Kung Fu Panda 2. Now FX has performed possibly the biggest film-TV rights coup of the season by landing Michael Bay's Transformers: Dark of the Moon.
Deadline reports that FX secured the "commercial TV premiere rights to Transformers: Dark of the Moon, which just wrapped the highest-grossing Fourth of July opening of all time over the weekend and has grossed $181.1 million domestic to date." Not a bad get for the network that started out broadcasting from an apartment in New York and re-airing old kitsch like Batman and The Green Hornet. But the real winners here are the viewers, who will get to see this films largely unedited because of the pay-cabler's relaxed content restrictions. No horrible dubs and full-on sex and violence. Just the way we like.
In the meantime, you can catch Transformers: Dark of the Moon in a theater near you (and read Josh's review here). My two cents: it's a painful story with amazing 3D and one hell of a final hour. Worth it? Hm...
Your Daily Blend of Entertainment News