Falling Skies Books House's Robert Sean Leonard And ER's Gloria Reuben For Season 3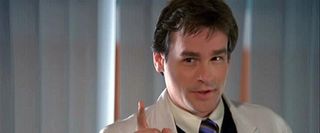 Falling Skies has cast two guest stars for major arcs, both of whom hail from successful dramas elsewhere. House star Robert Sean Leonard and former ER actress Gloria Reuben have each booked 5-episode appearances on the TNT sci-fi series for its third season.
It's Robert Sean Leonard's first new gig since the end of House's 8-season run this past May. He will be playing a PhD of a different type, according to Deadline. His role will be as a scientist, Roger Kadar, who earns himself the nickname "The Rat King" because he lives underground with his rats. He's brilliant but obviously just a little off; still he apparently becomes a person of great interest for the children of New Charleston. Leonard is likely to be back in a regular series role in the not too distant future, as word is he has been looking at pilot possibilities now that House is in the past.
Gloria Reuben will be playing the lovely and very smart Marina Perlata, who is an aide to Tom Mason. She brings experience and political knowledge to help Mason in his movement against the alien invasion. Mason is of course played by Noah Wyle, Reuben's former co-star over on ER, so her arc will be something of a reunion for the two. She has worked on a TNT drama in the past, Raising the Bar.
No word on when each of the actor's arcs will air on the show just yet, or whether they'll be around at the same time.
Your Daily Blend of Entertainment News