Female Serial Killer Books In Heartsick Series Being Turned Into FX Drama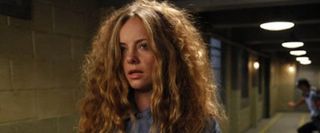 If there is one thing I have learned from watching years of criminal procedures, it is that female serial killers are few and far between. Sure, the Gravedigger from Bones was one badass bad woman, but despite a few guest stints by female killers – here's looking at you, Raising Hope – we haven't been privy to many onscreen ladies who thoroughly enjoy the meticulous slicing and dicing thing.
All that may change, thanks to a new series option from FX. According to Deadline, FX has picked up a trio of best-selling thriller novels written by Chelsea Cain, with plans to combine some of the compelling drama and characters from the books into a brand new TV series. Mikko Alanne, who wrote 5 Days of War will be penning the adaption to bring the Heartsick books, which also include Sweetheart and Evil at Heart, to life on the cable network.
The upcoming drama will follow killer Gretchen Lowell, a therapist and psychopath who takes joy out of cutting up her victims and making neat work of it. The storyline will also center on Gretchen's absurd relationship with policeman Archie Sheridan, a married man who falls for the lovely killer. This doesn't sound like the usual loner killer or even the "man hiding behind a family" psycho who we got to know on Dexter. The female serial killer sounds complex on many levels, and I can't wait to see what FX and executive producer Geyer Kosinski will do with the story.
Your Daily Blend of Entertainment News
Thank you for signing up to CinemaBlend. You will receive a verification email shortly.
There was a problem. Please refresh the page and try again.