The Flash Just Cast Yet Another Speedster, Get The Details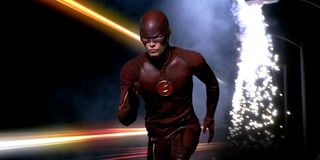 Season 2 of The Flash on the CW may be just around the corner, but that doesn't mean the hit comic book-based series isn't adding even more new faces to call sheet. Moving forward after the events of the Season 1 finale, they're bringing newcomer Violett Beane into the fold.
TV Line learned that Beane will join the party as Jesse Quick, who, as the name implies, is another speedster to give Barry Allen/The Flash (Grant Gustin) a run for his money (sorry, had to be done). She will show up in multiple episodes, and the character is described as alter-ego of Jesse Chambers, a quirky college student who, in addition to being brilliant, also gets entangled in the main conflict of Season 2, a clash between the Flash and Zoom, who has not yet been cast.
It'll be interesting to see how The Flash handles her origin story. Actually, we're curious to see how a lot of things work out after the craziness of the Season 1 finale. In the comics, Jesse is the daughter of Johnny Quick and Liberty Belle, two Golden Age superheroes. She gains access to her super speed through a spoken formula taught to her by her father. He hoped she would become his successor, but instead she continued on with her studies. From her mother, Jesse also inherited super strength, so she can do things like lift a car, which is bound to come in handy. In fact, she became a member of the Justice Society of America, picking up her mother's name and becoming the new Liberty Belle.
When we call Beane a newcomer, she's about as new as you get. Right now the young actress has two credits on her resume, a fantasy horror film called Flay that's in post-production, and an indie comedy with Michael Ian Black called Slash, which she just finished filming. A recurring role in a popular show has to be a big get for her and should be a nice boost to her career.
Things on The Flash are going to get all kinds of weird in Season 2. Now that Eobard Thawne and the Reverse Flash have been wiped from existence, the timeline has been rewritten, which is going to throw a great many things up in the air. Then there was Barry racing into the temporal singularity, and we don't know how that's going to play out.
However, instead of picking up immediately after the fact, Grant Gustin recently said that Season 2 jumps six months into the future beyond the finale, and whatever does go down, we're going to learn how it affected all of the key players. That's an interesting narrative approach, though it may frustrate some viewers looking for instant gratification as the story spools out.
We'll see how different the world of Central City is when The Flash returns to the CW on Tuesday, October 6.
Your Daily Blend of Entertainment News