Flowers In The Attic Sequel Based On 'Petals On The Wind' In Development At Lifetime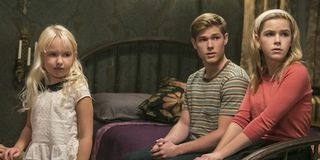 A little more than a week ahead of the debut of Lifetime's TV movie adaptation of Flowers in the Attic comes word that the network is developing a sequel, which will be based on V.C. Andrews' follow-up novel Petals on the Wind. But from what the screenwriter said about the project, it sounds like they've already set at least one major change to the story.
EW reported the news, stating that, at the Television Critics Association Press Tour, Lifetime announced plans for a sequel to their upcoming TV movie Flowers in the Attic, which is due to air January 18. Screenwriter Kayla Alpert says the sequel will take place ten years after the first film, which is already a deviation from the novels, when considering Petals on the Wind picks up almost immediately where Flowers in the Attic left off. With that said, the time-shift isn't entirely surprising when considering that Petals on the Wind spans years and takes the lead characters from adolescence into adulthood. A ten-year jump would allow them to condense the story and probably avoid having to age-up the characters bit by bit. Of course, this change may affect other aspects of the story, like certain developing relationships between certain characters, which does cause some concern.
And speaking of developing relationships, Alpert says this sequel will be a "very juicy and compelling revenge drama." We could certainly describe the book that way too, which is a good sign. As for casting and whether or not any of the cast of Lifetime's original TV movie will return for the sequel, so far, it doesn't look like they went into specifics on that, but we'll ad an update if we hear anything. Also no word on whether they're aiming to adapt all of the books, as there are two more that follow Petals on the Wind, and then a prequel novel told from the Grandmother's point of view.
Flowers in the Attic centers in four children whose father dies in a car accident, leaving their mother penniless and desperate enough to return to her wealthy parents' mansion and beg for their forgiveness years after they disowned her. There's more to that story than needs to be explained here, but part of her efforts to get back into her father's good graces involve hiding her kids away in a secluded bedroom of the mansion, leaving them there for years. The story is told from Cathy's (Kiernan Shipka) point of view, and involves her growing distrust of her mother, while her older brother Chris (Mason Dye), ever the optimistic one, holds onto hope that it's all a means to an end. The two of them work together to take care of their younger twin siblings Cory and Carrie. And then there's that whole incest side of the story, as Chris and Cathy's close bond crosses into inappropriate territory, a dark side effect to being abused by their grandmother (Ellen Burstyn) and neglected by their mother (Heather Graham) during prime years of their adolescence.
Petals on the Wind picks up with the Dollanganger siblings going their own way. If you've only seen the poorly adapted 1987 movie (opens in new tab), I'll spoil you a bit here -- actual spoiler alert if you still haven't gotten around to seeing the original movie -- by saying that, in the book, Cathy doesn't kill her mother by jamming a cookie in her face and forcing her over a railing on her wedding day. Andrews' version of Cathy's revenge, which doesn't come until the second book, is far less campy, though no less twisted and dramatic, all things considered. I'll hold off on major reservations about the planned decade time jump for this TV sequel until we hear more details about it. In the meantime, the trailer for Flowers in the Attic gives me some hope that this TV adaptation will capture Andrews dark drama a lot better than the 80s movie did…
Assistant Managing Editor
Kelly joined CinemaBlend as a freelance TV news writer in 2006 and went on to serve as the site's TV Editor before moving over to other roles on the site. At present, she's an Assistant Managing Editor who spends much of her time brainstorming and editing feature content on the site.
Your Daily Blend of Entertainment News
Thank you for signing up to CinemaBlend. You will receive a verification email shortly.
There was a problem. Please refresh the page and try again.