Fox's American Country New Year's Eve Live To Include Toby Keith, Joe Nichols And Eli Young Band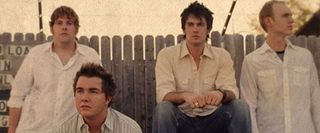 Fox is making some last minute changes to its New Year's Eve celebration lineup. After the success of the American Country Awards on the network, Fox has pulled out the cowboy boots and a little drawl and invited country fans to ring in the new year with a few favorite acts. A few weeks ago, Fox managed to book country performer Rodney Atkins and American Idol runner-up Lauren Alaina. Now, the line-up for the evening-long affair has been fully fleshed out.
Joining Atkins and Alaina for the evening are country juggernaut Toby Keith, Joe Nichols, and the increasingly popular Eli Young Band, who made it big more recently with their first #1 hit, "Crazy Girl." According to The Chicago Sun-Times, the lengthily titled American Country New Year's Eve Live will air out of Las Vegas' Mandalay Bay resort. The Las Vegas Pawn Stars guys, Rick Harrison and Chumlee Russell will host the country-themed program alongside comedian Rodney Carrington. Rick Harrison's love of classic rock should make an interesting marriage with the New Year's show.
The change-up comes as an attempt to cater to a different audience than Dick Clark's New Year's Rockin' Eve, which is celebrating its 40th Anniversary this year. Normally, Fox tries to also go the same pop route as New Year's Rockin' Eve, but the network has decided, with ABC pulling acts from left and right field, it is high time to give a new format a try. According to executive producer of the show, Bob Bain, this year, there isn't even a real chance to compete with Dick Clark.
If you can't beat 'em, might as well monopolize a different demographic.
Your Daily Blend of Entertainment News
Thank you for signing up to CinemaBlend. You will receive a verification email shortly.
There was a problem. Please refresh the page and try again.