Fox Buys Modern Hamlet Adaptation America's Son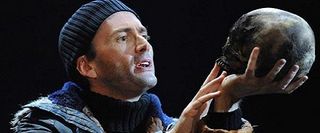 Fox is giving the modern-day Shakespeare update thing a try. The network has picked up a project called America's Son, a political soap and thriller set in Washington, D.C., that will be loosely based on one of Shakespeare's most well-known plays, Hamlet.
America's Son comes from writer Paul Redford, who has worked on both The West Wing and Dirty Sexy Money, so he knows his way around political dramas (as well as more sudsy stories). This project focuses on a Kennedy-esque political family. When the family's favorite son and presidential hopeful is killed in a car crash, his son (described as being a JFK, Jr. type) returns to D.C. to find out the crash that killed his father wasn't really an accident. He then takes on the task of finding the truth amid family drama and a whole lot of skeletons in the closet, hoping to obtain justice – or at least vengeance – for his father's death.
Fox has bought the project with a script commitment with a penalty. Steven Spielberg's Amblin TV (formerly Dreamworks TV) is also on board to produce. Interestingly, ABC also has a Shakespeare-based project on tap called Westside, which is generally referred to as being based on West Side Story. That fact is true, but the latter is actually based on Romeo and Juliet, which makes it only one step removed from a Shakespeare adaptation. Modern Shakespeare takes have had a mixed bag of success and failure over the years. Fox's project sounds like it's really only drawing basics from Hamlet, so, like Westside, it may not suffer too much from Shakespeare comparisons.
Your Daily Blend of Entertainment News