Fox Ready With Four Hour American Idol Premiere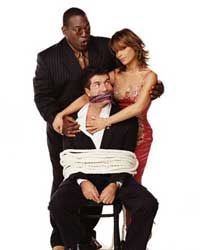 Everyone's favorite reality show is set to return big in January. Fox announced Monday that the season six premiere of 'American Idol' will be a four hour event over two days. The audition portion of the show, which is honestly the only truly interesting aspect of the perennial hit, will premiere on January 16.
More than 100,000 people tried out for the show, with probably 197 of them not being tone deaf, all around the country. Guest judges Jewel, Olivia Newton-John, and Carol Bayer Sager join Randy, Simon, and Paula on the audition tour. Cities that hosted the events this year include Los Angeles, Seattle, San Antonio, Birmingham, Memphis, Minneapolis, and New York. Simon Cowell informed USA Today, "Seattle is going to be known for something other than coffee this year. They had the worst bunch of miserable singers that I've ever met in my life." The guy gets more charming as the years go buy.
According to producers there were 110 women and 60 men sent through to Hollywood. With so many women competing for the top 24 spots, expect lots of tears and screaming. Hopefully this year there will be a Sing Battle between some contestants where making your enemies ears bleed constitutes a win. Barring that, blubbering tears are always a favorite during the Hollywood segment of the series.
Last season 'American Idol' averaged an astounding 30 million viewers. With 22 Emmy nominations and zero wins, the show has proven to be empty calories for our TV viewing indulgence. As long as the show pulls in massive viewers it's going nowhere, so get comfortable guys. Producer Nigel Lythgoe promises, "some of the worst [singers] we've ever had."
Staff Writer at CinemaBlend.
Your Daily Blend of Entertainment News
Thank you for signing up to CinemaBlend. You will receive a verification email shortly.
There was a problem. Please refresh the page and try again.