Fox Renews Glee, Raising Hope, And New Girl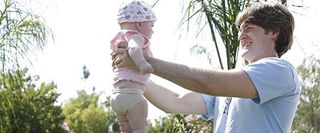 Fox has announced more renewals for next season, and it looks like Tuesday nights won't be changing. Gleeks will be happy to hear that season four of Glee is assured (not that there was much doubt) while Raising Hope's strong ratings have earned it a third season. Finally, newbie New Girl has been given a second season, again, not to anyone's surprise I am sure.
With Glee returning from hiatus to settle back in to the eight o'clock time slot on Tuesdays, Raising Hope will go back to a later slot, having brought in good numbers while filling the Glee gap. Deadline reports all three series that make up a two-hour block of Tuesday primetime on Fox are coming back next season. They're the latest to be renewed after the pickup of Bones for its eighth season.
New Girl was definitely a break-out hit for Fox this year, bringing in much-needed comedy viewers in the young adult demo, and is a strong companion to Raising Hope on Tuesday nights. It has definitely outlasted and out-rated Fox's other freshman comedy, I Hate My Teenage Daughter, which has been pulled from the lineup on Tuesday nights and is still awaiting the anticipated official announcement of cancellation. Weak ratings are also looking to spell the end for another Fox comedy, Breaking In, which has been given a second shot but isn't performing well.
Glee takes back its normal time slot at 8 pm tomorrow, and will be followed by New Girl and then Raising Hope. It sounds like that's the plan for Tuesdays into next season as well.
Your Daily Blend of Entertainment News
Thank you for signing up to CinemaBlend. You will receive a verification email shortly.
There was a problem. Please refresh the page and try again.