Friends Star Makes Guest Appearance On 30 Rock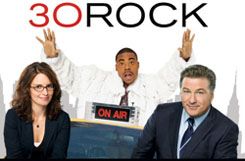 Everyone's favorite divorcee and former star of Friends is set to appear on of NBC's current Thursday night shows. That's right, Jennifer Aniston is going to make a guest appearance on the hilarious 30 Rock!
EOnline just posted the story. The only details that are known are that she is filming now.
Since little is known, we can only speculate that she'll be playing herself. But then again, maybe she won't. Since 30 Rock is kind of similar to Saturday Night Live I'd say it's a toss up. Either way, I'll say it's going to be nice to have her back. She was my favorite on Friends, and she cracks me up in every movie she's in. I'm also glad that 30 Rock seems to still be going strong. I adore Tina Fey, and am glad she's enjoying such success.
Your Daily Blend of Entertainment News
Thank you for signing up to CinemaBlend. You will receive a verification email shortly.
There was a problem. Please refresh the page and try again.