Futurama And Simpsons Plan Crossover Episode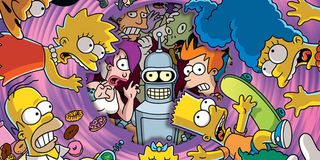 The Simpsons and Futurama have crossed over once before, but only in comic form. Now that Futurama is set to go off the air (again), the creator of both shows, Matt Groening, is finally willing to bring it to the big screen. During the Comic-Con panel for Futurama today Groening hinted at a Simpsons/Futurama crossover in an upcoming episode. He didn't say which show would host the crossover, but since there are only six or seven Futurama episodes left to air, we have to assume the Planet Express crew will be making their way to Springfield… somehow.
Jesse Carp is on hand to cover both the Futurama and Simpsons panels, and he'll have more details about both shows in his wrap-ups. Groening promised in the Simpsons panel that the crossover will happen either during next year's season finale or at the beginning of the next one, and also promised an Easter Egg for Futurama fans in an upcoming couch gag. If you can't wait for the end of next season, how about an appearance from Hypnotoad in the couch gag of this year's Halloween episode?
Click over to the liveblogs for more on both shows, and click here for all of our Comic-Con TV coverage!
Your Daily Blend of Entertainment News
Staff Writer at CinemaBlend