Game Of Thrones Adds Jonathan Pryce And 8 More For Season 5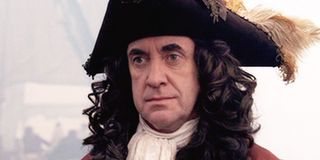 Game Of Thrones is never able to show a ton of footage at Comic-Con because of how the show's shooting schedule works out. Given the almost absurd number of characters the HBO masterpiece follows, however, the event is a great price to drop casting news. And my God did we just get casting news. During the Game Of Thrones panel in Hall H, a video presentation outlined almost a dozen characters who will be making their debut appearances during the upcoming season, as well as the actors and actresses who will be playing them. There are a lot of winners, but the clear standout win is Jonathan Pryce who will be playing the High Sparrow.
You can watch the casting video that blew the roof off Hall H below...
Game of Thrones is expanding its world during Season 5. After enjoying the brief but glorious viewpoint of Oberyn Martell, the show will take us to Sunspear, a castle in Dorne that houses many other members of the family. While the new location should expand the series out even more and may make it more difficult to keep up with some of our favorite characters, it should also breathe a little life and color into the landscape. Without further ado, here are some of the characters you should meet when HBO's Game of Thrones returns to TV next spring.
Alexander Siddig as Doran Martell
Doran Martell is the thoughtful and wise head of the Martell household. He's an older man in the books who is mostly confined to a chair, due to a disease that left his legs weakened and unused. He's not prone to warring like his now-dead brother Oberyn and he often manages political maneuvers other members of his household would not be able to achieve. In Game of Thrones, he'll be played by The Fifth Estate and Da Vinci's Demons actor Alexander Siddig, who is actually a little younger than the man I always pictured. Possibly Game of Thrones will age him up, possibly not.
Toby Sebastian as Trystane Martell
Trystane is not quite as important as his daddy, Doran. He's Doran's youngest child and he's a character of note in the books because he has a thing for Myrcella Baratheon, a character whom we haven't seen on Game of Thrones since she was shipped off to Sunspear in the second season. In Season 5, Trystane will be played by Toby Sebastian, who barely has any acting credits to his name. Luckily, he has some pretty fab hair to compensate for this.
Nell Tiger Free as Myrcella Baratheon
Myrcella is not a new character to Game of Thrones exactly; she was around in the time when Robert lived and saw enough of her family's antics to last a lifetime. However, she's notable on this list because she will be played by a new actress during Season 5. When she initially appeared on the series, she was played by Aimee Richardson. Now, Nell Tiger Free will be taking on the role.
Deobia Oparei as Areo Hotah
Hotah is sort of nondescript in that his personality is similar to many characters on Game of Thrones. He is tough, brave and loyal. His home is Sunspear and he is charged with guarding or protecting the Martell family, depending on the situation, as certain extended members of the Martell family can be quite feisty. He's also a foreigner living in Dorne, and in Game of Thrones, he will be played by stage and film actor Deobia Oparei. He'll also be pretty good with a long axe.
Keisha Castle-Hughes as Obara Sand
Obara is, first and foremost, a member of the Sand Snakes. To be a Sand Snake, one must be a bastard daughter of Oberyn, and Obara is the oldest of his bastards. In the books, she is hot tempered and out for vengeance after her father's death and should cause plenty of headaches for poor Doran. She'll be played by Keisha Castle-Hughes.
Enzo Clienti as Yezzan
Yezzan's another character that will appear in a place outside of Dorne. He's a slave owner and is generally grotesque. He's supposed to be this big, creepy man, but he's going to be played by Enzo Cilenti, so his appearance should definitely change. Without giving too much away, he should be the key to bringing two characters that have had nothing to do with one another together.
Jessica Henwick as Nymeria Sand
Like Obara, Nymeria is plenty dangerous. She's hot-tempered and covers her person with weapons, and she's equally unhappy with the way things went down when Oberyn visited King's Landing. She's supposed to be the second oldest Sand daughter, but the show has cast 21-year-old actress Jessica Henwick in the role. To make sure we can point her out among the other two sisters, HBO says the show is giving her a whip.
Rosabell Laurenti Sellers as Tyene Sand
Tyrene is another Sand Snake who has been changed for the purposes of the TV show. In the books, she knows more about poisons than weapons, but HBO is giving her a pair of twin daggers to work with. She's also meant to be softly pretty and blonde, but HBO is also changing the story to make Ellaria Sand her mother, and with Italian actress Rosabell Laurenti Sellers on board to play the role, I'm thinking Game of Thrones is going in a very different direction with the character.
Jonathan Pryce as the High Sparrow
We'll get away from Dorne for a little while with this casting. To get into the details of the High Sparrow's role in Game of Thrones would be spoiler-filled folly, but suffice to say, he'll cause quite a stir in King's Landing during Season 5. The High Sparrow will be played by Jonathan Pryce, who is probably the biggest name among the new castings.
Stay tuned for additional information!
Your Daily Blend of Entertainment News
Reality TV fan with a pinch of Disney fairy dust thrown in. Theme park junkie. If you've created a rom-com I've probably watched it.
Your Daily Blend of Entertainment News
Thank you for signing up to CinemaBlend. You will receive a verification email shortly.
There was a problem. Please refresh the page and try again.