Game Of Thrones Season 2 Preview: Invitation To The Set Featurette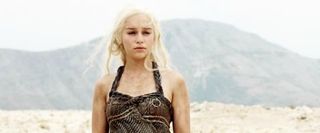 The second season premiere of Game of Thrones can't come fast enough. After an amazing debut, people's expectations are obviously high for the fantasy series' return and to the creators' credit, everything we've seen so far suggests that it won't disappoint. To describe the HBO adaptation of George R.R. Martin's "Song of Ice and Fire" novels as cinematic is a serious understatement and as this invitation to the set featurette highlights, the series is committed to creating the most expansive and detailed world possible.
The preview offers fans a chance to catch up with our series' favorites - like Tyrion (Emmy and Golden Globe winner Peter Dinklage), Daenerys (Emilia Clarke), Jon Snow (Kit Harrington) and Cersei Lannister (Lena Headey) - as well as listen to co-creators D.B. Weiss and David Benioff talk about the importance of filming on location. And when the vistas look that good, especially after you factor in the amazing production design, it's not hard to see why they prefer real shooting on locations whenever possible. Even if that means travelling to Iceland.
Another thing I immediately noticed with this behind the scenes video is that not one of the new cast members utters a single word. They are teasing us by revealing as little as possible but, even though they were kept silent, it was still great to get our first live action looks at Margaery Tyrell (Natalie Dormer) Brienne of Tarth (Gwendoline Christie), Stannis Baratheon (Stephen Dillane), the Red Priestess Melisandre (Carice van Houten) and Davos Seaworth (Liam Cunningham). And again, I can't stress just how perfect the casting seems. We'll find out for sure in just over a month's time.
Game of Thrones returns to Sunday nights on HBO starting April 1, 2012. It stars Kit Harrington, Emelia Clarke, Lena Headey, Peter Dinklage, and Nikolaj Coster-Waldau. The show was created by David Benioff and D.B. Weiss, based on the novels by George R.R. Martin.
Your Daily Blend of Entertainment News
Thank you for signing up to CinemaBlend. You will receive a verification email shortly.
There was a problem. Please refresh the page and try again.