Game Of Thrones Suffers Ratings Dip With Blackwater Episode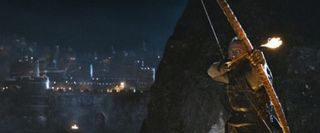 While some channels might choose to air reruns during a holiday weekend, it was business as usual for HBO on Sunday night, when Game of Thrones aired its second-to-last episode of the season, followed by new episodes of Veep and Girls. Did Memorial Day weekend have an impact on GoT's "Blackwater"? Or was it those dang Hatfields and McCoys that are to blame for the dip in ratings? Possibly a little bit of both…
According to EW, despite the added hype and promise of a major battle, which the episode inevitably delivered, Game of Thrones' ratings were down on Sunday night, dipping to 3.4 million viewers for its original airing at 9:00 p.m. That's a 13% drop from the week before. As the site notes, Memorial Day weekend likely played a factor in the slight decline. Also, it's HBO, which means fans of the series will have multiple opportunities to catch the episodes during a later airing, on demand, or via HBO Go.
EW goes on to follow-up their report with an update that mentions the 13.9 million viewers who tuned in to watch History's Hatfields & McCoys. While it's entirely possible that some Game of Thrones fans switched over to History to check out another family feud playing out on television, EW speculates that the high Hatfield and McCoys numbers can be attributed to the number of older viewers showing an interest in westerns on TV. See also, AMC's Broken Trail. Regardless of the reason, a slight dip in the numbers during a holiday weekend is nothing to throw a Joffrey-tantrum over.
Preview the Season 2 finale episode here.
Your Daily Blend of Entertainment News
Thank you for signing up to CinemaBlend. You will receive a verification email shortly.
There was a problem. Please refresh the page and try again.