Game Of Thrones' Tarwell Family: What We Know From The Books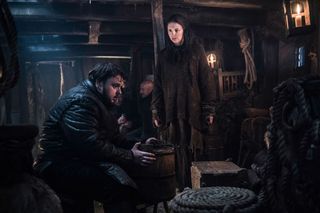 Spoilers from tonight's episode of Game of Thrones "Blood of my blood" are all over this article. If you aren't caught up on the series, feel free to check out one of our other lovely articles.
Because so many characters frequently die on Game of Thrones, the show is always looking for ways to replenish the ranks and introduce us to new characters. On occasion, Game of Thrones will bring in characters who aren't in the books, like Ros. Still, oftentimes the characters we meet come straight from George R.R. Martin's A Song of Ice and Fire series. A few weeks ago on HBO's fantasy drama, we finally caught up with Samwell Tarly and Gilly. They took a boat to Oldtown, where the Citadel's located, and where Gilly unfortunately wasn't welcome as a woman. That led Sam to make the difficult decision to face his father and to bring Gilly to stay with his mother and sister. This week, the big reunion happened, and it was every bit as horrify and awkward as we expected.
During the episode, we came face to face first with the gentler women in Sam's family and then with Sam's father, who we've known was a brute for a while. He doesn't really welcome Samwell, but things really hit the fan when Gilly accidentally reveals she met Samwell north of The Wall. Randyll Taryl says unspeakable things both about Sam and Gilly's upbringing as a wildling before banishing Sam from the house once more. Instead, Sam decides to steal his father's sword and leave with Gilly and the baby in tow. The sword will likely play a bigger role than Randyll Tarly moving forward.
We still need to learn a lot about Sam's family and Gilly's fate as they near the Citadel, but for now, here's what we know about the characters from the books.
Randyll Tarly
While we know a bit about Randyll Tarly, he's not actually a point of view character in George R.R. Martin's books. We do know that he is not fond of Samwell, as is evidenced in the HBO drama during Season 6. We also know he's a man's man. He has a sword made of Valyrian named Heartsbane, although he fought on the losing side during Robert's Rebellion, which occurred many years before the start of the series. While he fought for Mace Tyrell, at one point we do learn that he did inflict some damage upon Robert Baratheon's forces. He also supported Renly later in the series, although on Game of Thrones we learned he didn't support his own son, forcing him to join the Night's Watch after implying he'd kill Sam if his son didn't leave home. However, Samwell meeting his father on the way to the Citadel is not actually in the books.
Melessa Tarly
Melessa Tarly is Sam's mother, whom Sam describes as "a kind woman" early on in Episode 3. Before marrying Randyll Tarly, Melessa was a Florent, a family who also supported Renly Baratheon before his untimely death at the hands of Melisandre's shadow baby. We don't know a ton about Melessa from George R.R. Martin's written works, but Samwell did say she was a "kind woman" the last time we saw him onscreen, and doubtless his mother was not privy to the threats her husband made that forced Sam into the Night's Watch. In the series, she also speaks out against her husband when he is being particularly cruel, although that doesn't stop Randyll.
Talla Tarly
In A Song of Ice and Fire, Sam has other sisters besides Talla. However, in the series, we've only heard about Talla, who Sam has described as "lovely." She's played by Tonight You're Mine actress Rebecca Benson. When Sam catches up with her, it is clear he has not seen her in many years. She's a grown young lady on Game of Thrones, complaining about the young man she may have to marry. She's also adorable, worrying about what colors Gilly might look best in.
Dickon Tarly
Dickon is the literal golden boy in the Tarly family, and not just because he has blonde locks. He's also the opposite of his brother, Samwell, in most ways. Sam is overweight and incredibly intelligent, but not nearly as useful in a fight. Dickon would much rather fight than read about history or other subjects. He's much like Randyll in that aspect in the books. In the series, Dickon seems companionable with Sam and speaks to him about hunting, but they clearly aren't on the same page in terms of likes and dislikes.
You can find out more about the new Game of Thrones series when HBO's fantasy drama airs on Sunday nights at 9 p.m. ET. In addition, here's what we know about the upcoming episodes.
Reality TV fan with a pinch of Disney fairy dust thrown in. Theme park junkie. If you've created a rom-com I've probably watched it.
Your Daily Blend of Entertainment News
Thank you for signing up to CinemaBlend. You will receive a verification email shortly.
There was a problem. Please refresh the page and try again.