New Girl's Exes Return: Mary Elizabeth Ellis And Justin Long Will Be Back This Season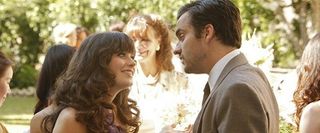 The last few episodes of New Girl this season are set to see a return of the exes: including Jess' ex Paul and a visit from Mary Elizabeth Ellis, who appeared early in the season as Nick's ex Caroline. While we'll only see Paul briefly in the finale, Ellis is coming back for a three-episode arc, sure to mean trouble for Nick.
The Hollywood Reporter has word on the upcoming wrap-up of New Girl's first season and the return of the exes. It's Always Sunny in Philadelphia star Mary Elizabeth Ellis, who is also making a guest appearance on Happy Endings towards the end of March, has signed on to reprise her role as manipulative ex Caroline whose appearance tends to send Nick into a tailspin. What exactly will happen during her re-appearance is under wraps, but with a three-episode arc it's obviously more than a simple cameo. Are we headed for some sort of romantic cliffhanger to end the season?
Justin Long, who appeared earlier in the season as Jess' short-term boyfriend Paul, will also return to help put an end to the season. He's only set for one episode, but since it's the finale we can be certain it's not an innocuous visit either. Is New Girl planning to end the season with an ex hookup? The final episode of the season has the ominous title Backslide which leads me to believe that's precisely what we can expect to see – but will it be Jess, Nick, or both who slip back into old relationships?
Your Daily Blend of Entertainment News