Girls Watch: Season 2 , Episode 7 - Video Games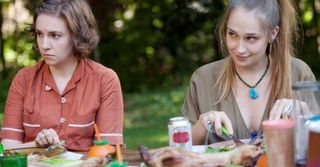 "I'm not falling for this crap."
At the beginning of the month, HBO made every effort to avoid putting its Sunday night lineup against the demographically dissimilar Super Bowl, going as far as pre-releasing episodes of Girls and Enlightened, but for some reason, the same course of action was not taken for The 85th Annual Academy Awards. Surely, Lena Dunham's show shares more of its audience with the Oscars than it does with the biggest event in (North American) sport, however, that didn't stop the network from airing "Video Games" like any other weekend. And while the results are still out on whether the awards show had any effect on Girls ratings, the seventh episode continued the slip in quality over the last two weeks. To be fair, the first four installments of the second season set the bar incredibly high, so perhaps a mid-year slump was to be expected? No series is without missteps and Girls, even when it doesn't fully succeed, is still more daring than most other series on TV.
"You're the cushion."
Including (and especially) the Academy Awards. They need them some Girls, namely Amy and Tina. Anyway. "Video Games" focused on only two of our titular ladies and it once again reinforced that the show is at its best when played as an ensemble comedy. At least the seventh episode of the season showed that it's not just Hannah-centric installments that fail to live up to the standard set by the show when it features the entire cast. Wait. That probably isn't a good thing. We might never get a Girls that is completely without Hannah, not that we should since she's very much the protagonist no matter how much I talk of ensembles, however, "Video Games" comes pretty damn close with Jessa's story in the driver's seat. Hannah's inclusion in Jessa's trip 'home' is actually rather brilliant from a structural standpoint, reinforcing the 'like father, like daughter' theme running through the episode, and yet it never really clicked emotionally. It all felt so constructed.
"Well, maybe on some level you wanted it, 'cause you know we're not like other people."
I couldn't help but see the craft behind "Video Games" which, similar to "One Man's Trash," makes it come across as more of a writing exercise than organic installment. And even though Jessa's backstory does a pretty good job explaining why she turned out the way she did, the episode does it in such an obvious way that we didn't really need to see it, especially in a full on upstate detour. If you were asked to describe the character's backstory before last night, I imagine you'd come up with something pretty similar to what we saw. It would have been more interesting to see someone with Jessa's commitment and abandonment issues come from a house like Hannah's instead of the one they created. Having said all that, and it was a lot, "Video Games" does still have a lot to admire, first and foremost the great guest stars. Girls hasn't lacked for talented actors stopping by but this week's appearance by Ben Mendelsohn as the runaway dad was one of the best.
"You shouldn't have to, I"m the child. I'm the child!"
Mendelsohn blew me away in Animal Kingdom and Killing Them Softly and I didn't expect to see him pop up in the HBO dramedy, especially in the same episode as Rosanna Arquette and the pair both play the parts perfectly. But before we meet the parents, "Video Games" opens with Hannah and Jessa waiting for pops by some train tracks (not coincidentally, it's also where the episode ends in very neat bookends) and the former relieving her bladder in one of the few genuinely funny moments. Jessa's smile was great. Dad eventually shows up and brings the best friends back to the house to meet his current girlfriend (Arquette) and her awkward son Frank. Before the predictable but still quite amusing sex-driven storyline between Hannah and the teenager takes place, she spends a bit of time playing cushion and letting the father and daughter catch up. Pretty much everything Jessa says about her failed marriage is bullshit and he seems to know it, playing up their matching nomadic personas and foreshadowing the eventual effect her visit will have on both of them.
"See you around, my love. X"
I must admit, as much as I was able to predict most of the events of "Video Games," especially the night out with the underage boys (from the driving too fast to the too fast fornication) and heart to hearts with dad (over and over), I still didn't see Jessa's final play coming. Any emotional impact that her running away was supposed to have was immediately killed by Hannah's funny phone call to her parents, not to mention the second track-side bathroom break, but at that point I was just happy to get a chuckle out of the otherwise pretty laugh-less episode. The 'you used me for sex' line was pretty good too. Perhaps, I'm being unfair and expecting too much from the show but Girls has no one to blame but themselves for those raised standards. Once you've delivered the greats, it's hard to accept the goods. Let's hope Girls can deliver on its episode name next week. Girls returns with Episode 8, "It's Back," next Sunday at 9 p.m. ET on HBO.
Your Daily Blend of Entertainment News