Gossip Girl Is All Based On Trust For Connor Paolo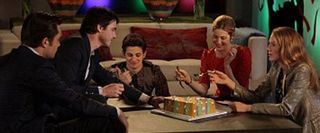 As the show's fourth season winds down, what haven't we seen on Gossip Girl? Sex, drugs, betrayal, blackmail; the list goes on and on. While promoting his upcoming film Stake Land, Gossip Girl's very own Eric van der Woodsen, Connor Paolo, joked about how he doesn't even know where the show's going – or where the gang has just come from for that matter. What he does know is that season four will end in true Gossip Girl fashion. "We always end the season with every single character we've had in that season in one place, at one time, in one conversation," Paolo explained.
Having been with the show from the very beginning and having been such a key character more so than ever this season, it's a wonder why Paolo isn't considered a "primary cast member." Well, as Paolo revealed a while back, that was a conscious decision and it still is to this day. Unlike his on-screen big sis, Blake Lively, and the rest of the gang, Paolo isn't obligated to be part of the promotional campaigns, or even to show up for that matter. Paolo isn't contractually obligated to come to set, rather he comes when the writers call, on his own free will. "It just makes everything feel necessary rather than like forced." Paolo proudly added that his working relationship is "built on trust."
While this does mean Eric's inclusion is never a guarantee, based on Paolo's dedication and the seemingly genuine bond he has with the writers and producers, as long as Gossip Girl is still on the air, he will be, too. Check out everything Paolo had to say about his experience on the show and expectations for the future in the video interview below.
Your Daily Blend of Entertainment News
Staff Writer for CinemaBlend.