Gossip Girl's John Shea Cast In Season 4 Of The Good Wife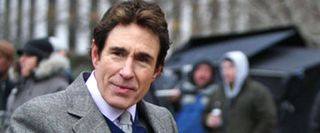 Actor John Shea has earned a spot in CBS' critically acclaimed drama, The Good Wife, but hopefully, his character won't need any legal advice. Instead, Shea will take on the role of Cary Agos' father, who is being described as the kind of distant man who believes in hard work and picking yourself up by the bootstraps.
That's actually not a far cry from the role Shea played in Gossip Girl as Blair's caring but distant father, who spends most of his time with his partner in Europe. Although Shea's Good Wife character sounds more awkward and less jolly, like Gossip Girl, there will be some stress in the father-parent relationship aspect. According to TV Line, there will be some tension due to Shea's character having cut off his son at the tender age of 18.
If all goes well, The Good Wife may keep the actor around for a while. Currently, Shea is signed on for a guest spot on the show, but TV Line also noted that if the writers can find room for the character elsewhere in Season 4, the guest role could change to recurring. I have my fingers crossed. I'd love to look further into Cary's familial past.
Shea joins a long list of stars joining The Good Wife in Season 4 including Rita Wilson, Colin Quinn, Parker Posey, Amanda Peet, Maura Tierney, Marc Warren, Kristin Chenoweth, and Nathan Lane.
You can catch new episodes of The Good Wife starting Sunday, September 30 at 9 p.m. ET.
Your Daily Blend of Entertainment News