Gotham Adds Dexter's David Zayas In A Devious Role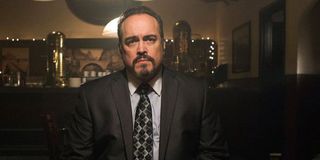 Fox is gearing up to premiere Gotham this fall, and while we've seen trailers and TV spots, it looks like there is still room for the show to add new characters. On Friday, the Batman prequel series announced that Dexter actor David Zayas is joining the cast, and in the new series, he won't be playing one of the detectives in the squad.
Instead, Zayas has signed on to Gotham to play Salvatore Moroni, a DC Comics character who is most famous for throwing acid on Harvey Dent in a courtroom. That's not likely to be a plotline in Fox's new series, as early previews have focused on villains like Fish Mooney, Oswald Cobblepot and Selina Kyle. Regardless, Moroni will definitely be a fixture on the Gotham scene, as Deadline is reporting Zayas has joined the series in a recurring capacity. The role comes after Zayas finished his stint on Showtime's long-running series, Dexter, as well as follows a recent gig on George Lopez's Saint George.
What does seem clear about Moroni's role in the new series is that the character will be working to control more of Gotham, a task which won't be easy. His rival is the more notable Batman character, Falcone, who will be played by John Doman in the pilot. Clearly, the two crime boss' exploits should give Detectives Harvey Bullock (Donal Logue) and James Gordan (Ben McKenzie) plenty of work to keep busy.
Thanks to its comic connections and high-end cast, Gotham has been one of the mostly highly anticipated pilots of the season, spurred most recently by a large Comic-Con presence. The show won't have the flash and the gadgets that Batman brings to the table, but Gotham's dark setting and a prequel series looking at the rise of Detective James Gordan should still prove to be enough of a pull for fans.
At least, that's what Fox must be hoping. The network has produced some critical hits, like Brooklyn Nine-Nine, and some moderate ratings hits, like Sleepy Hollow and The Following, over the last couple of years. However, with juggernaut shows like Bones and American Idol losing ground, the network could totally use a massive critical and ratings hit to help some of its more lackluster numbers and make the network more competitive. The channel has put a lot of effort into making Gotham that hit, and we'll find out whether or not it competes when Gotham hits the schedule on Monday, September 22 at 8 p.m. ET, followed by the season premiere of Sleepy Hollow.
Amazing Race & Top Chef superfan with a pinch of Disney fairy dust thrown in. If you've created a rom-com I've probably watched it.