Grace Phipps Joins Vampire Diaries For Season 4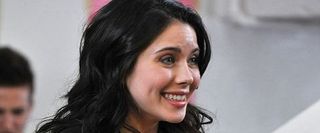 The Vampire Diaries has added another recurring character to debut in the upcoming fourth season. Grace Phipps, who recently came off of The Nine Lives of Chloe King , will be adding the CW hit to her somewhat short resume as a 16-year-old named April recently come back from the private school she was attending.
Phipps is a relative newcomer in the acting world, and aside from the short-lived series Nine Lives, where she had a regular role as Amy, she's done one film, Fright Night. At least that gives her some experience in the supernatural realm. She'll need that for this new role. Her character is said to have a history with Elena and Jeremy, and comes home after her father passes away, where Elena will attempt to protect her from Mystic Falls deep, dark secrets. EW says we can expect to see the newcomer show up on the second episode of the season.
The Vampire Diaries recently added Todd Williams to next season's cast as a vampire hunter who will also make his appearance in the second episode of the season, which raises the question of a possible connection between the two new characters. Perhaps Elena doesn't need to protect young April as much as she thinks? She may be coming with some deep, dark secrets of her own. Then again, who doesn't have a few skeletons in their closet in Mystic Falls?
The Vampire Diaries fourth season starts on the CW on October 11th, so the answers to those questions will have to wait until then.
Your Daily Blend of Entertainment News