Graceland Review: USA's Likeable Drama Favors Style Over Substance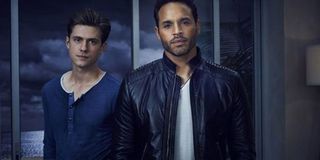 Graceland is an oasis, a beachfront property in California that was seized by the government and now houses a hodgepodge of law enforcement agents from different organizations. It's a gorgeous home in a gorgeous location, replete with a chore wheel. However, inside its walls, there are plenty of people living on top of one another, each working different covers and keeping different secrets.
Pilots are nearly always a little clunky, but the opening scene in Jeff's Eastin's Graceland is riveting. A bunch of newbies to the FBI hear one last speech from their mentor where he talks about compromise, while somewhere in the field, an agent gets into a sticky situation. It's a clever way to segue into introducing the main cast, which stars Aaron Tveit as Mike Warren, a young FBI rookie who is assigned at the last minute to the Graceland team. Warren has a lot of 'aww shucks' moments in the opener to USA's series, but this is mostly so the pilot can introduce us to the rest of the team, which includes Warren's mentor and outside-the-box officer, Paul Briggs (Daniel Sunjata), as well as Charlie (Vanessa Ferlito), Johnny Turturro (Manny Montana), Dale Jakes (Brandon Jay McLaren), and Lauren Kincaid (Scottie Thompson), the latter of which will switch out to make room for Breakout Kings' Serinda Swan, who will play a character named Paige.
It is the dynamic between Briggs and Warren that the pilot is most interested in. Warren is a by-the-books sort of guy while Briggs likes to play fast and loose. Briggs is tough and charismatic, but it's hard to trust his cocksure movements and slow smile. Playing the character, Sunjata employs the same calm and ambivalence he brought to the table in Smash, and it is difficult to tell his motivations, while most of the show's other characters read like an open book.
USA's always been fond of splash and glitz, and if that's a factor you look for, Graceland won't disappoint. Unlike another USA program, Suits, which goes for glamour in costuming and verbal wit, Graceland can't exactly toss it's female leads in cleavage revealing silk tops and thousand dollar shoes. Instead, director Russell Lee Fine (The Wire) puts together stylish sequences and segues, utilizing a weird rainbow effect when he wants to switch between scenes. The first time viewers catch this, it might be jarring, but by the end of the episode, I had adjusted to the effect.
Graceland isn't a whodunit. It's a police task force drama about putting the moves on the bad guys and bringing them out of the shadows. The first episode was a little clunky, with an overarching premise that caused the episode to drag. Additionally, the lightheartedness of the crew doesn't help with the plausibility of the endeavor, although it does romanticize the grim, compromising, and sometimes-violent life of undercover sting operations. The only time I really believed what the characters were going through was in the end, when a tough day ended in tequila on the beach. Despite some issues, the pilot still offered likeable characters and enough team-based wit and rapport to give me a reason to tune in for a second episode. You can decide for yourself by watching the Season 1 opener, here.
Amazing Race & Top Chef superfan with a pinch of Disney fairy dust thrown in. If you've created a rom-com I've probably watched it.
Your Daily Blend of Entertainment News
Thank you for signing up to CinemaBlend. You will receive a verification email shortly.
There was a problem. Please refresh the page and try again.