Guillermo del Toro's The Strain Earns A Pilot Order At FX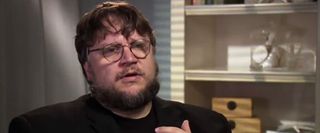 Guillermo del Toro's The Strain vampire project is finally seeing the light of day. The famed director initially ran the The Strain by the networks a few years ago, but had trouble selling the project, which follows a team of humans who work to get rid of parasitic vampires. When The Strain failed to catch on, del Toro teamed up with writer Chuck Hogan and wrote a series of books based on the TV concept. The popularity of the books was enough to gain traction, and now FX is giving the project a shot.
FX seems pretty invested in the vampire drama. According to Deadline, the cable channel has already order a pilot from del Toro and Hogan, an endeavor that will be written by the two men and directed and executive produced by del Toro. This is the first time FX has ever said yes to a pilot after just hearing a pitch, but since several cable channels were all bidding on the project, it's no surprise FX would commit to a little extra.
Interestingly, del Toro is envisioning The Strain as a close-ended series, and the director says FX was picked for the project because the cable network had the best understanding of how the series was supposed to pan out.
If The Strain makes it to series—which is looking good—Season 1 is expected to follow the titular book in the series, while Season 2 will follow the second book, called The Fall. To make things sound even more concrete for the project's future, Lost and current Bates Motel showrunner, Carlton Cruse, is signed on to run The Strain, as well. We'll keep you posted if FX brings this one to series.
Your Daily Blend of Entertainment News
Thank you for signing up to CinemaBlend. You will receive a verification email shortly.
There was a problem. Please refresh the page and try again.