HBO And BBC Developing Miniseries Based On Wolf Hall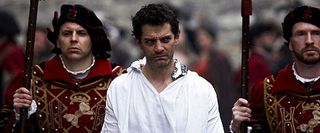 The BBC and HBO are hopping on the Showtime bandwagon and hoping to see the same success the latter enjoyed with The Tudors with another look at the reign of England's infamous King Henry VIII. Deadline reports that they're collaborating on an adaptation of the Man Booker prize winning novel Wolf Hall, a fictionalized telling of the life of Tudor court favorite Thomas Cromwell.
The 2009 novel by Hilary Mantel looks at the Tudor world through the eyes of Cromwell, starting the tale with his youth and moving through his rise to power and eventual fall from grace – ending of course with the falling of his head to the ground under the executioner's axe as did so many lives in Henry's day. Cromwell was a major supporter of the Reformation movement and played a big role in getting Henry the divorce he needed to marry Anne Boleyn, whose head he also had removed.
With the super sexed-up version of the reign of Henry VIII still fresh in many a viewer's mind, the producers might be hard pressed to make this much more serious telling appeal to a wide audience; I'm an avid reader and I still haven't managed to get through Wolf Hall. It's a heavy book filled with historical detail and not a whole lot of sex which, let's face it, is what drew in a lot of Tudors fans. How the book translates to a screenplay should be interesting to see.
James Frain played Cromwell on Showtime's The Tudors, there's nothing in the way of rumors as to who will play the role in Wolf Hall, much less who will step into Jonathan Rhys-Meyer's hose as Henry. Peter Straughan, writer of the odd film The Men Who Stare at Goats is on board to write the adaptation.
Your Daily Blend of Entertainment News
Your Daily Blend of Entertainment News
Thank you for signing up to CinemaBlend. You will receive a verification email shortly.
There was a problem. Please refresh the page and try again.