HBO Series Follows Boxing Trainer Freddie Roach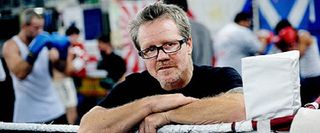 You may not have heard of him, but you've unknowingly seen the results of his work. Legendary boxing trainer Freddie Roach has worked with world famous fighters and has also trained some of Hollywood's biggest names. Now it's his turn to step into the spotlight with an HBO series about his life and work.
Owner of the Wild Card Boxing Club in Los Angeles, Freddie Roach is usually behind the scenes, but those he trains are in the world's spotlight. He's worked with famous boxers such as Oscar de la Hoya and Mike Tyson, and is the trainer who took Manny Pacquiao to the top. He is also a trainer to many Hollywood stars. Mark Whalberg calls him "one of the best trainers ever", the star brought Christian Bale to see Roach during filming of The Fighter which earned Bale an Oscar. Roach is a modest and unassuming man dealing with Parkinson's Disease and spending all of his days in his gym, but HBO thinks his story is worth telling.
The series originally popped up over at AMC a few years back, but nothing came of it due to creative differences. HBO however has gone ahead with the unscripted series according to The Hollywood Reporter, called On Freddie Roach, it follows Roach through a typical day at his gym and how he works with the people who come in to train with him as he deals with Parkinson's. HBO expects the series to transcend the boxing world. "It is a moving look at a man who happens to be a public figure in boxing," said HBO programming President Michael Lombardo.
Your Daily Blend of Entertainment News
Thank you for signing up to CinemaBlend. You will receive a verification email shortly.
There was a problem. Please refresh the page and try again.